An architecturally striking development called the "Tree House" has been submitted for approval to the District of West Vancouver by British Pacific Properties.
The building, which is slated to contain 37 market condos, is part of British Pacific Properties' masterplan for the Rodgers Creek area off Cypress Bowl Road. The overall masterplan intends to provide a total of 269 new homes over 13 lots.
The "Tree House" is designed by Olson Kundig, a Seattle-based architect known for cantilevered West Coast Modern-style buildings and use of natural elements, in association with local practice Ramsay Worden Architects.
The smallest of the proposed condos would have a generous 1,847 square feet of living space, rising to 2,804 square feet in the largest units.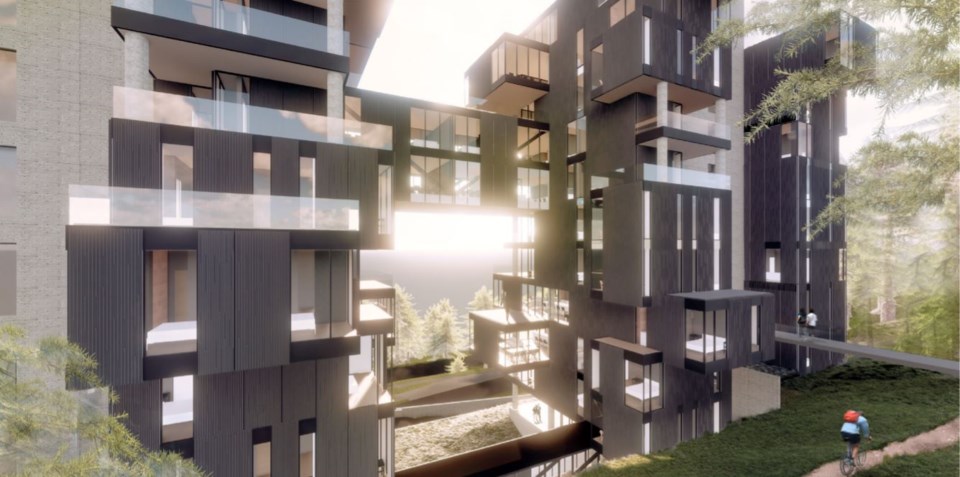 The building is comprised of two "trunk" towers of 12 and 11 storeys, with a two-storey connecting bridge between them.
The application's design rationale reads, "The [design] process is inspired by the ecology of a tree, from which two service trunks reach out to capture daylight and fresh air. Spaces grow and extend organically, reaching southward to the view and northward engaging with the site. These shoots form physical connections to nature, creating outdoor living spaces and at-grade connections. On the top three floors, the units branch out to form a canopy in the sky. These units will be caught between the forest and the water, offering amazing views and experiences throughout the units."
Check out more renderings of this proposed development, below.