A new federal and provincial bilateral agreement to fund affordable housing in B.C. to the tune of $991 million over 10 years was signed in Vancouver June 26.
Jean-Yves Duclos, the federal minister responsible for the Canada Mortgage and Housing Corporation, and B.C. housing minster Selina Robinson announced the agreement as part of the federal National Housing Strategy launched last year. Half of the $991 million will come from the federal government and half from the province, said Minister Robinson.
Minister Duclos said that the agreement will "preserve at least 34,000 affordable housing units across British Columbia… An action plan will be developed, that is transparent, with specific outcomes and measures to track our collective progress. The federal government, in partnership with British Columbia and other provinces, is also working towards a 15 per cent expansion in new affordable housing units, and renewing 20 per cent of existing affordable housing units across the country."
Minister Robinson said, "British Columbians have been feeling the effects of out-of-control housing costs and extremely low vacancy rates for many years. Housing affordability is at crisis levels... And we know it's not just a big-city issue, as people are struggling in all parts of this province. And so we are pleased to see the federal government back at the housing table… The federal dollars announced in this agreement will complement the investments our government is already rolling out to help people in need."
The new $991 million fund is in addition to the previously planned $705 million for social housing in B.C. under the Social Housing Agreement. However, it will not create any additional housing over and above the 114,000 new affordable homes over 10 years already promised by the B.C. NDP government. Instead, the new funding will ensure that those targets are delivered and potentially reduce rents on those homes, as "that is the number of new affordable homes needed to get out of the current crisis," said Minister Robinson. "It'll stretch our dollars further so we can make the housing more affordable."
Minister Duclos said, "For too long, the federal government has said that problems of affordable housing were the problems of municipalities and provinces. This is changing today, with this agreement with B.C. The federal government recognizes it has a responsibility to provide better housing affordability for families."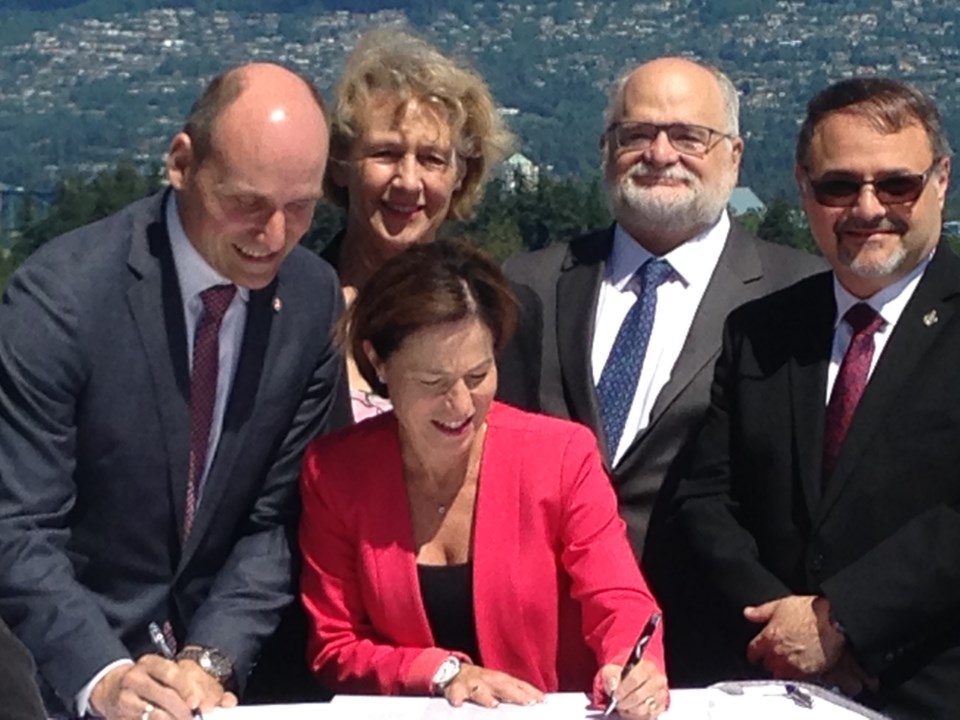 Duclos also touched on the new national housing benefit that was announced last year. He said, "British Columbians in need will also get direct support to pay for housing from a new Canada Housing Benefit that will start in 2020."
Duclos told Glacier Media in the Q&A session, "Overall across Canada it will help 300,000 families, with an average [annual] benefit of $2,500. This will reduce the number of families who find themselves in unaffordable or unsafe housing situations across Canada. In B.C., there's a clear connection between homelessness and housing affordability."
He added, "The $2,500 is an average benefit across Canda. We expect British Columbians, and the Lower Mainland in particular, to be particular beneficiaries of this benefit because of the fact that housing is so expensive in these communities."
The bilateral agreement action plan with measurable targets is expected to be released in fall 2018.