Iryn Sarmiento doesn't want to move. 
She likes the size of the two-bedroom apartment she shares with her family. She likes that her four kids only have to walk a block to school in the morning. And she likes the relatively affordable $1,000 rent.
That's why she voted for Burnaby's new mayor, Mike Hurley, a political newcomer who vowed during the campaign to protect Sarmiento and her neighbours from forced displacement.
Hurley, who was sworn into office Nov. 5, has promised a moratorium on redevelopment approvals in Metrotown until the city has a comprehensive plan to better accommodate tenants affected by demovictions – evictions for the purpose of demolishing a building, often to make way for a new condo tower.
According to the Canada Mortgage and Housing Corporation, Burnaby saw a net loss of 889 rental units between 2010 and 2018. Much of that loss has come from Metrotown, where low-rise apartment buildings have been razed and replaced by gleaming steel and glass towers.
Sarmiento knows what Hurley has promised but still feels anxious about the future.
"I don't know," she said. "I'm still worried."
Her apartment building, 6645 Dow Ave., sold this summer as part of a multimillion-dollar four-lot land assembly. It's not clear how much Sarmiento's building sold for in a bidding process that did not include a publicly listed asking price. 
The property was valued at $17.2 million in 2016 and $36.9 million in 2017.
The building was marketed as a great investment opportunity for anyone looking to "capitalize on strong demand for condos in Burnaby and the Metrotown area as shown by the recent success of several projects including Townline's The Sussex, Polygon's Vittorio and Transca's Polaris."
The listing mentions Sarmiento's 40-unit rental building as providing "steady holding income" for a potential buyer during the rezoning process.
Sarmiento says some of her neighbours have already moved out, not waiting for an eviction notice they believe is imminent. But the mother of four plans to stay in her home of eight years until she has no other choice.
"If possible, I have to fight for it," she said.
'Rest assured,' new mayor says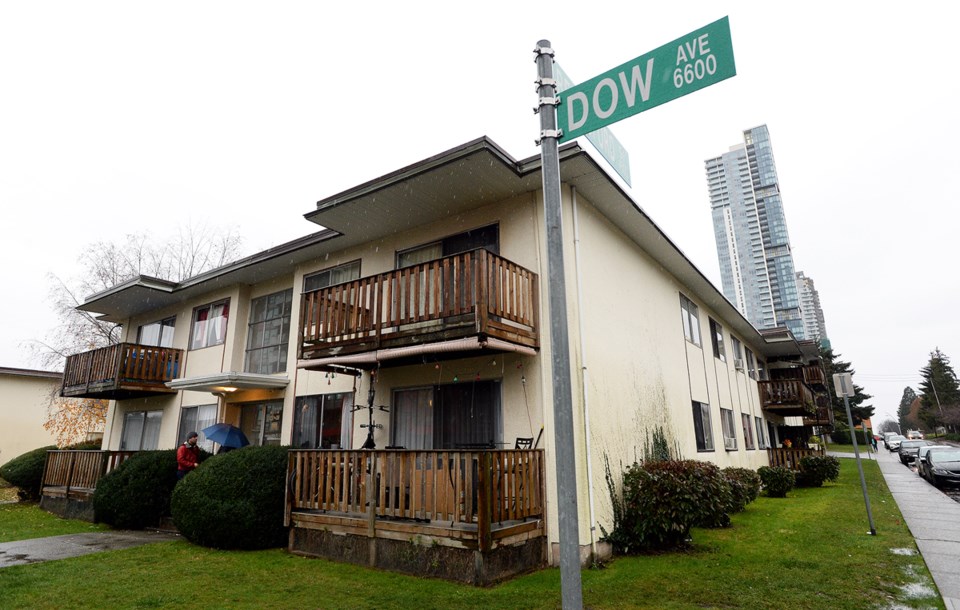 Asked about the future of the recently sold properties, Hurley recommitted to his promise.
"I don't blame them for feeling nervous," he said. "Of course, I would be in the same position if I was them, but what I can say to them is that none of these buildings will move forward through any process until everyone in those buildings are taken care of."
Hurley said the moratorium on redevelopment in Metrotown will remain in place until his housing task force completes its final report, expected in June.
One solution could involve guaranteeing displaced tenants a place in any new development that replaces their old home and arranging temporary housing during construction, Hurley said.
And, he said, it will include implementing new rental zoning, which the City of Burnaby recently became the first to add to its bylaws after the province granted such powers earlier this year.
"Rest assured that any buildings that get rebuilt will include affordable rentals as part of their process," Hurley said.
But some residents of the recently sold properties aren't ready to trust politicians.
Derek lives two doors down from Sarmiento at 6675 Dow Ave. He too voted for Hurley –  "because I know the old mayor tried to just destroy everything" – but has his doubts.
"The developers keep destroying, and I don't think (Hurley) can do it," said Derek, who did not give his last name. 
"My hope was for the new mayor to do something but, as you know, we don't live in a perfect world."
Derek recently put his family on a B.C. Housing waitlist, hoping to find a new home before an eviction notice comes. He has also been looking at rental listings in Surrey and farther afield, but moving away would mean commuting to his IT job in Burnaby.
And with a second child on the way, Derek's need for secure, affordable housing is more important than ever.
Derek's building sold with neighbouring 6691 Dow Ave. for a whopping $43.2 million in a deal that closed earlier this month.
Another resident of the recently sold buildings (6659 Dow Ave.), Nathan Cunan, said he wasn't nervous about the change in ownership until a NOW reporter told him the four buildings, not just his, had all sold to one buyer.
"Oh my goodness," Cunan said. "Maybe they have a plan to demolish our building because they sold it together."
Cunan echoed the concerns of his neighbours, saying he is certain he wouldn't be able to find a comparable rental to the $916 he pays for a two-bedroom unit shared with his wife, daughter-in-law and a roommate.
"We're worried about moving out again," he said.
Millions spent in land deal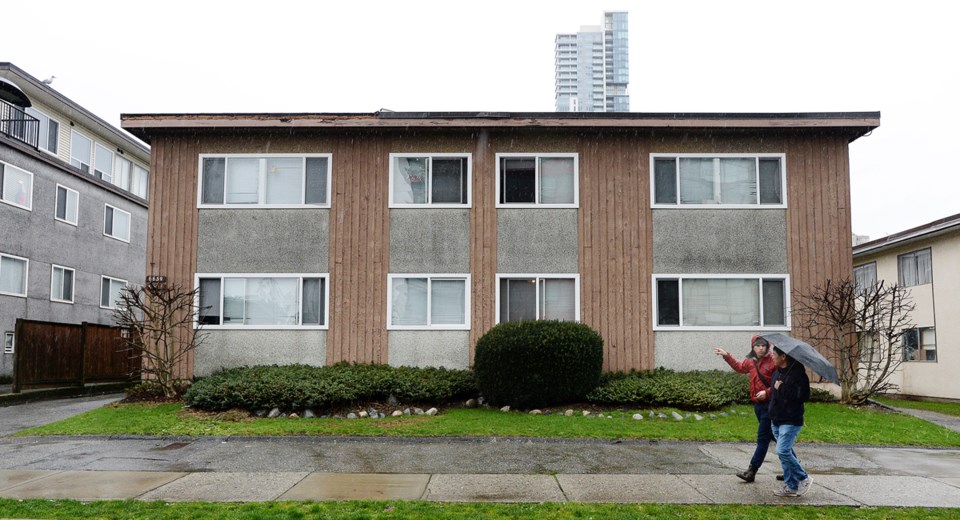 Big land deals like this are par for the course in an area designated for massive highrise commercial and condo buildings, according to the real estate agent responsible for the sale of 6691 Dow Ave.
Brandon Harding said the deal for 6691 and 6675 was reached more than six months before its closing the week of Dec. 3.
The high value comes thanks to the Metrotown Downtown Plan passed more than a year ago when Derek Corrigan was still mayor, Harding said. While the lots remain zoned for low-rise apartments, the plan signals to developers they will be able to rezone them for high-density mixed-use development.
Harding said that designation resulted in a windfall for property owners in the area.
"Basically it's like getting a lottery ticket," he said.
But, he said, it has also left many property owners with no choice but to sell. As assessments skyrocketed from 2016 to 2017 – often more than doubling – many owners have been left unable to afford their new property taxes, Harding said.
He believes that was all part of Corrigan's plan.
"That's what the city does to push their agenda," Harding said. "So the city cranks up all the assessments, and if they want to get really nasty, what they do is they change it from a residential to a commercial zoning."
(Including a commercial designation like the one on the mixed-used Dow Avenue lots increases values further.)
It's not clear who bought the four buildings. 
Land title documents only list past owners of 6675 and 6691 (a representative from the Land Title and Survey Authority of B.C. said that information will be publicly available soon). 
Two numbered companies – 1173807 B.C. Ltd. and 0898100 B.C. Ltd. – are listed as the owners of 6645 and 6659 Dow Ave. The two companies list the same Vancouver address in title filings: Chen & Leung Barristers and Solicitors. Calls and an email to the office requesting information about the people behind the companies were not returned.
Harding would not give specific details, but did say the four lots were all bought by a private equity group represented by a local woman who "owns quite a bit of properties."
As for the new owner's plans, Harding said "I'm sure they're planning to develop it in the long term. The area is eventually going to need more density.
"As far as I can tell, this group's plans aren't changing because of what the government has in mind."
The agent who sold 6645 and 6659, Simon Lim, did not respond to requests for comment.
Burnaby market 'confusing as hell'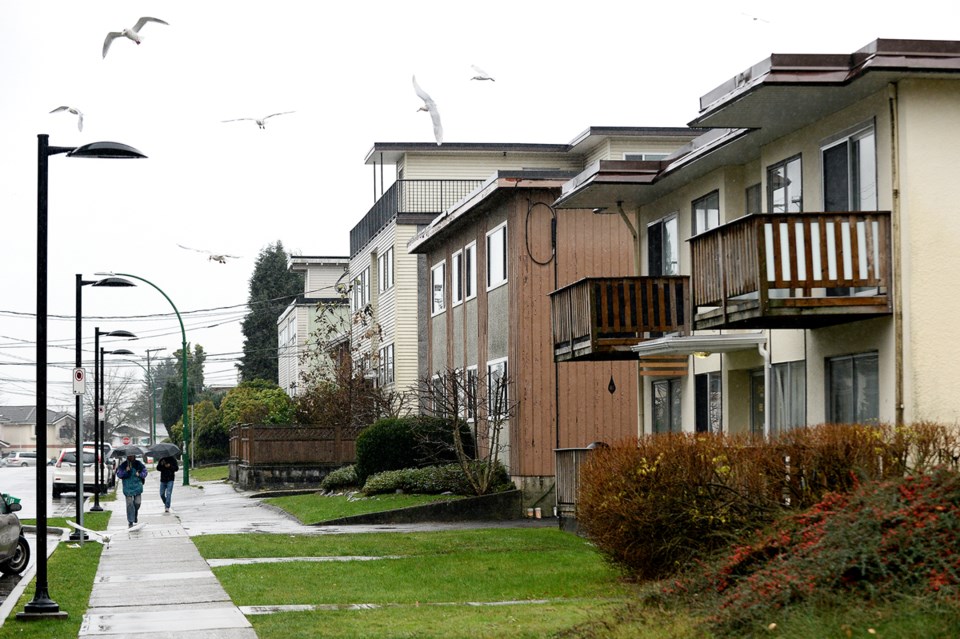 Real estate agent David Goodman, who sold the 20-unit apartment building where Derek lives for more than $21 million, said the course set by Hurley is adding uncertainty into Burnaby's investment market.
"We find what's going on with the City of Burnaby to be mysterious, convoluted and, frankly, confusing as hell," Goodman said. "Burnaby is an area we just don't want to touch."
"The entire development community probably feels like they've been sideswiped by Burnaby, and there's a great deal of apprehension, concern, and it's a bit like what happened in White Rock," he said, comparing Burnaby to another Metro Vancouver municipality where a new local government has upended existing zoning plans.
Goodman declined to answer more questions about the sale, the buyer and Burnaby's real estate market. He suggested the NOW speak to a representative from the Urban Development Institute (UDI) – a group he said was better suited to represent the general interests of the development community.
In an emailed statement, UDI president and CEO Anne McMullin said developers are keen to play a part in solving Burnaby's affordability issues.
"Many of our members, who have had their housing projects on hold since July with uncertainty and carrying costs mounting, are keen to find a way to move forward that provides housing for all budgets, while maintaining project viability," she said.
Hurley said he's met with developers to apprise them of his plans for development in the city.
"They've got a very clear message that nothing will move forward until people are looked after," he said. "They knew it was coming, so they weren't really surprised."
And he dismissed the suggestion his plans are unfair to those who have already invested.
"Obviously, the developers are very smart people, so they have probably done their homework and have a fair idea of what's coming in front of them," he said. "So they must believe they can still turn a good profit on whatever their plans are."
Pay displaced tenants generously, economist says
Hurley's task force will examine a wide variety of plans to accommodate displaced renters, but UBC economics professor Tom Davidoff said there's one simple solution to the problem of demovictions: pay tenants generously.
The city's fiscal reserves have ballooned to more than $1.3 billion, thanks in large part to density bonuses paid to the municipality by developers in exchange for permission to build larger buildings. Davidoff supports the density-selling model but said he'd like to see more of it go to evicted tenants.
"I don't think Burnaby was at all wrong to build a lot of housing and Burnaby made an absolute fortune," he said, but added that Corrigan should have ensured more of that money went to displaced renters.
Davidoff said simply paying displaced renters would be much simpler than other proposals likely to be put in front of the housing task force. Even if such payments cost a developer millions of dollars, Davidoff said they would still be making hefty profits and likely happy to have their projects move forward.
"There's so much money being made – billions of dollars – that kind of money you can make everybody better off," he said.
The bottom line, according to Davidoff, is the moratorium cannot last forever and Burnaby needs to allow for new construction
"Not building housing is not a way to solve the affordability problem," he said.