If living on your own island seems idyllic but a bit inconvenient, perhaps the perfect compromise would be your own peninsula, surrounded by private beaches and rocky shoreline.
We can only dream, but that's the reality for whoever is lucky enough to buy this Caulfeild waterfront property. It was put up for sale at $24,998,000 on April 14, making it both the Lower Mainland's priciest new MLS listing of last week (April 9-15) and the most expensive West Vancouver home currently available on the MLS (although it doesn't quite break the Lower Mainland's current top five, coming in at #6).
Described by the listing agent as a "world-class waterfront residence," the 8,445-square-foot home was built in 1990 but extensively renovated in 2006 with stunning all-white interiors and geothermal heating.
It has four bedrooms, six bathrooms, a grand foyer, huge living and entertaining spaces, a state-of-the-art media room, a five-car garage and a high-tech boat house with a 32-foot yacht thrown into the deal.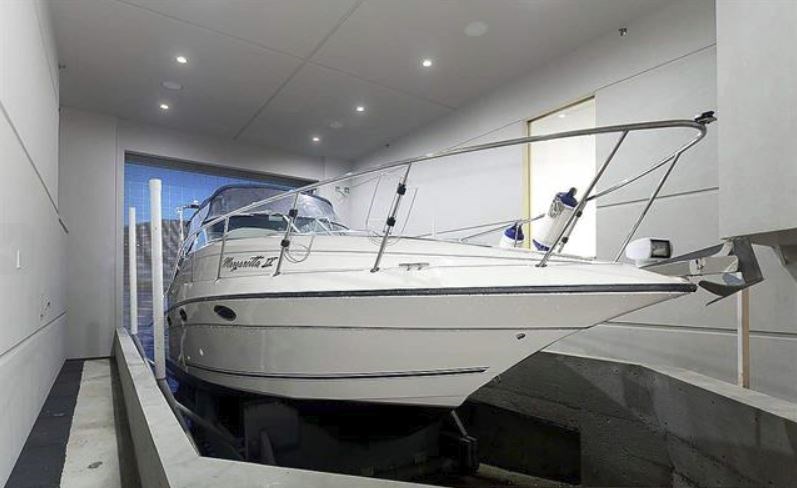 The exterior offers extensive outdoor living spaces, an amazing pool and hot tub, and landscaped terraces.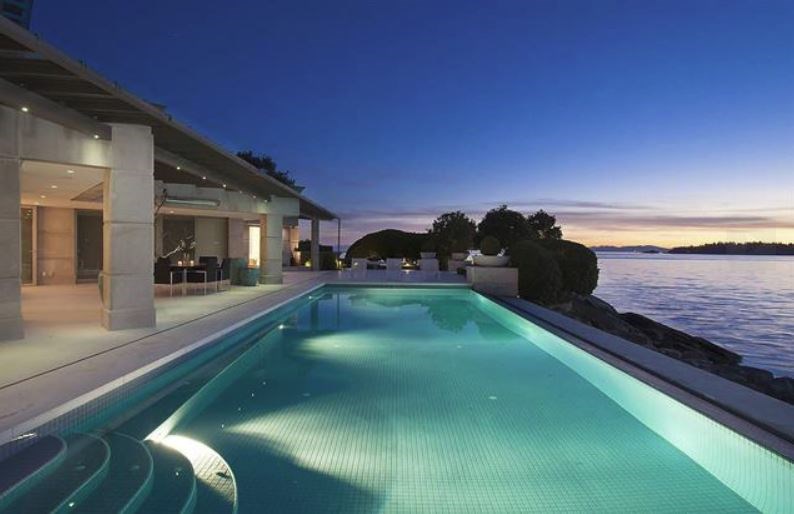 The spectacular home is part of an exclusive, gated, 14-home enclave called Seaside Place, which was founded by Arthur Griffiths and sits on its own private peninsula jutting into the mouth of the Howe Sound, just north of Lighthouse Park. The community has a high-tech security system, and a stratified common area for the heated roads, gardens and security. The newly listed house enjoys the prime spot in the community, perched on its own mini-peninsula at the end of the bluff, with more than 500 feet of shoreline and private beach on three sides.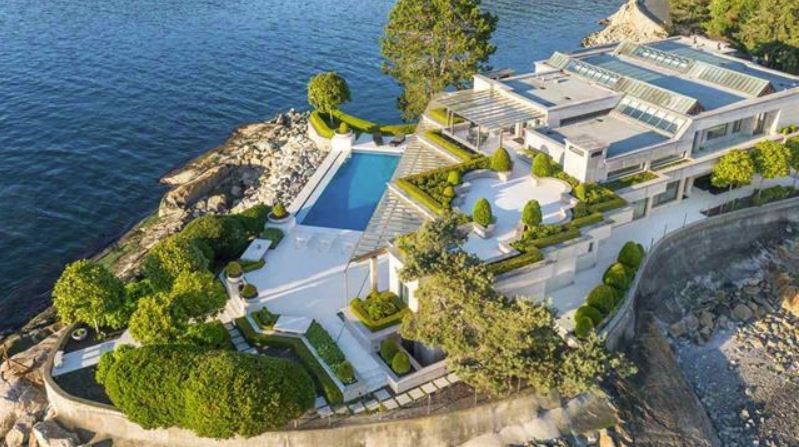 Interestingly, four of the 14 homes in Seaside Place are currently for sale. A super-cool Russell Hollingsworth-designed house was featured in the Vancouver Courier in February, after being listed for $22.88 million. The other two properties on the pensinsula are listed here and here, at much lower prices.
The newly listed house was assessed in July 2017 at $20,839,000. The new owner will be facing steep additional charges, with 2017 property taxes at $51,078, plus unknown fees for community grounds maintenance and security. 
Check out more photos of this incredible property, below.