The Neil Squire Society's latest social enterprise aims to eliminate the financial barriers that may prevent people from getting the hearing help they need.
Hearing Solutions, a Neil Squire program, is a fully equipped hearing health centre located just steps away from Gilmore Skytrain Station.
As a non-profit organization, Hearing Solutions can offer the latest advances in hearing aid technology at a price that is affordable. They also provide a number of free services including free hearing tests, ear wax removal, and hearing aid consultations.
"A lot of people face financial barriers in obtaining the hearing aids or hearing tests they need. These financial barriers can prevent people from investigating their hearing loss and address issues they may be facing in their everyday life," registered audiologist and hearing instrument practitioner Heather Ritchie says.
"Sometimes a financial barrier can make it hard to approach a subject. You don't want to think about it because you know it might be difficult."
Through available grants and subsidies for qualified clients, Hearing Solutions can reduce the financial barriers that may prevent people from getting the hearing help they need.
"We always look at every possible source of funding to help people get those devices. Whether it's a program they can apply for or extended health benefits. I always go the extra mile to help people find the funding they need because I know that every little bit makes a difference," Richie says.
When clients choose Neil Squire Hearing Solutions, they are supporting people with disabilities in their community. All proceeds from the services go towards Neil Squire programming for people with disabilities.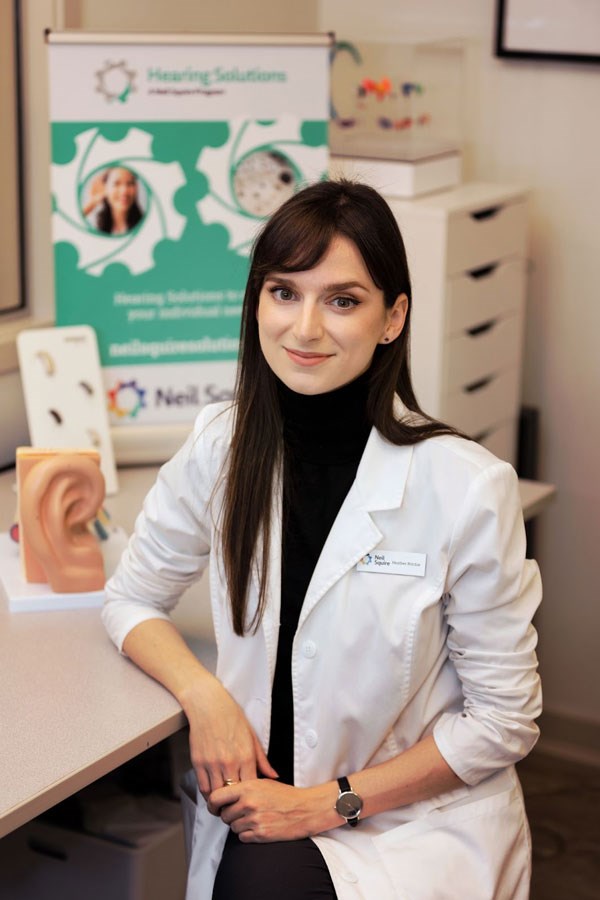 Ensuring those with disabilities can access the hearing help they need is also a priority for Hearing Solutions, which features an accessible custom-built sound booth and a state-of-the-art facility that allows us to help people with all types of disabilities.
Addressing any hearing issues as soon as possible is crucial, Richie says.
"Your communication abilities affect so much in your day-to-day life that you don't realize, including maintaining your independence. We rely on our hearing a lot and it also affects your brain because you don't just hear with your ears, you hear with your brain," Richie says.

As each person's journey to better hearing is unique, Richie strives to develop strategies that are tailored to each person's requirements.
She closely follows the newest developments in hearing research, using recent advances in technology to find these unique solutions for her clients' communication needs.
"We take the time to understand our clients' needs and find a solution that works for each individual," Richie says.
"I think the quality of care that we provide is a really important characteristic of our organization that makes us unique."
To learn more and to make a hearing appointment today, visit www.neilsquiresolutions.ca, or call 778.945.1215.