Burnaby Hospital has been at the heart of the community for 70 years, helping families get healthy and stay healthy. With no major renovations in the last 50 years, it is still one of the busiest healthcare facilities in the Fraser Health Authority region, seeing approximately 200,000 patients a year.
Burnaby Hospital Foundation (BHF) also celebrates its 40th anniversary this year and highlights its fourth decade of making an impact on the health of its community with a remarkable achievement – exceeding $30 million raised for its Proud History, Bright Future redevelopment campaign.
"In under three years, our community has really come together to help us surpass this major milestone in our redevelopment campaign to transform our community hospital into a state-of-the-art healthcare campus," says Kristy James, President & CEO of Burnaby Hospital Foundation.
"The recent success of the Foundation's campaign secures funding needed for modern equipment and technologies in Phase One of the redevelopment," explains James. "These are essential for the upgraded Burnaby Hospital, which will encourage innovation, improve processes, and ultimately provide improved patient care and experience."
As the fundraising organization for Burnaby Hospital, the Burnaby Hospital Foundation bridges the gap between what the government provides and what the community needs. Their purpose is to ensure that Burnaby Hospital is equipped in every way to advance the health of all generations while helping maintain the vibrancy of the entire community.
The redevelopment of Burnaby Hospital brings expanded spaces, modernizations, and upgrades to the aging facility. It will have an immediate impact on patients and families, improving quality and access to medical services for the community. Phase One of the redevelopment will focus on four key services essential for all local families: emergency care, surgery, maternity, and mental health.
"Burnaby Hospital already has the dedicated and talented teams of medical staff, and, through this transformation, the hospital will be well-equipped to address medical challenges today, as well as for future generations."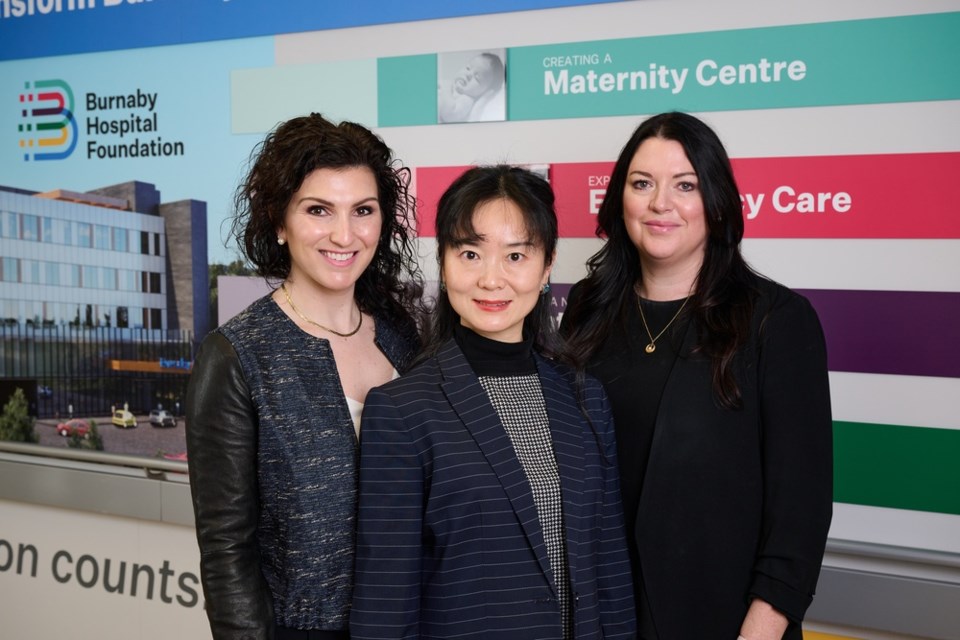 With every passing day and every donation, BHF is one step closer to its vision of a modern healthcare campus, made possible by dedicated people who engage determinedly on this ambitious journey.
"We want to thank our leadership donors, Betty Beedie, Jim Pattison and the City of Burnaby, as well as all the generous members of our community that have helped us reach this milestone," says James.
"This achievement is truly a team effort by so many who continue to champion our mission. It would not have been possible without the steadfast support of Foundation's Board of Trustees, Fundraising Cabinet, and Chinese Ambassador Society."
"I'd also like to share my appreciation and give credit to my leadership team, Claire Wang, Vice President of Finance and Administration and Danielle Sleiman, Vice President of Development for their determination."
Still, James reveals their job is nowhere near done. "The redevelopment is an ongoing project, and this first step is only the first piece of a bigger project that will affect health care in our community now and for future generations."
She affirms that this is a milestone that everyone should all be proud to celebrate.
"From the bottom of my heart, I want to thank our community for bringing us past this significant milestone," she says. "The amount we have raised together so far shows that our community recognizes the urgent need for an upgraded and modern Burnaby Hospital, and they are willing to put their donations towards that goal."
"A donation, no matter the amount, makes an impact on health care in your community."
To learn more about Burnaby Hospital Foundation or if you'd like to make a contribution, visit bhfoundation.ca or call 604-431-2881.