When you've been an integral part of the local landscape for nearly 90 years, you might be tempted to sit back and take your standing in the community for granted. But that's not what's happening at the Burnaby Refinery.
"This facility has been producing the fuels that keep British Columbians moving since the early days of the automobile era," says Robert Pinchuk, director of Low Carbon Strategy and Planning at the Refinery. "We haven't missed a beat, and continue to safely and reliably deliver the essential fuels our Lower Mainland customers want, and need every day."
The essential role they play within the community was never clearer than during the 2021 B.C. floods.
"With the Transmountain pipeline shut down, the Refinery was unable to operate as normal, and many were concerned the Lower Mainland could run out of fuel," says Pinchuk. "We were determined that wouldn't happen. Using the Refinery's supply infrastructure, our teams worked around the clock to source and supply the fuels that the Lower Mainland depends on."
As much as the Burnaby Refinery meets consumers' needs for transportation fuels today, it is also playing a leading role in meeting the needs of tomorrow. For many years, the Refinery has been focused on answering a simple question; how can they significantly lower the carbon intensity of the liquid fuels B.C. residents depend on?
The answer lies in a technique called co-processing, and the Burnaby Refinery was the first in North America to pilot and scale such an innovation. But what is co-processing?
Simply put, it requires replacing some of the crude oil required in the refining process with renewable feedstocks such as non-food grade canola oil, or animal fats. "The resulting fuels perform exactly the same as conventional fuel but have one-eighth the carbon intensity," says Pinchuk. "And the best part is, you can use it in your existing vehicle without modification."
Parkland began co-processing in 2017, and quickly advanced to commercial production. They were the first North American refinery to achieve this using existing equipment and infrastructure. In 2021, the Burnaby Refinery's co-processing accomplishments equated to removing 70,000 passenger vehicles from B.C.'s roads.
B.C. is setting the national bar when it comes to environmental ambitions, working with industry leaders to help find affordable energy alternatives as they work towards the goal of net zero by 2050. "Our country and Province have set lofty environmental goals and to meet them, we're going to need a range of solutions. This will include solutions that can be deployed quickly and without having to completely replace existing vehicle fleets and critical infrastructure," says Pinchuk.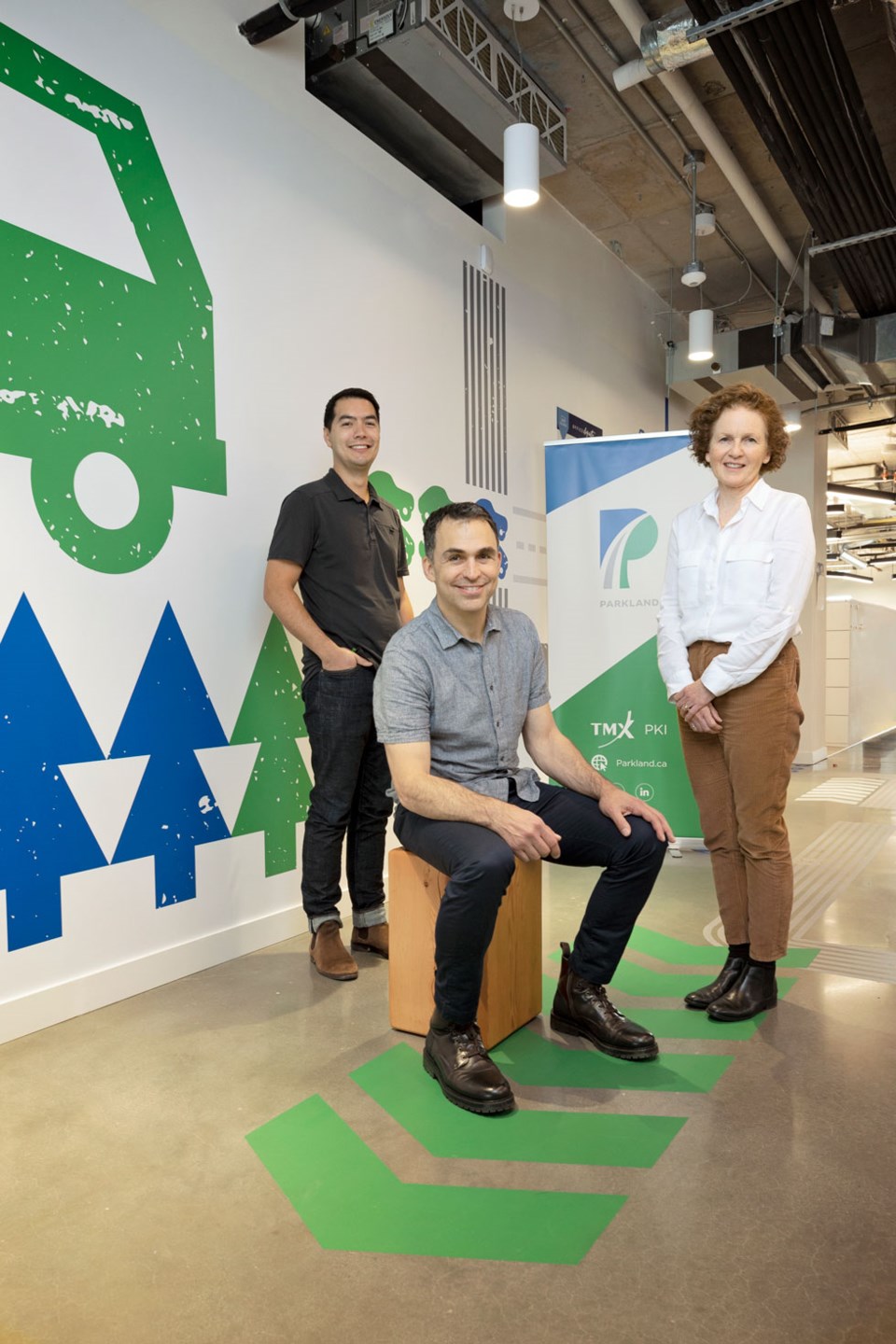 Lower-carbon liquid fuels are one such 'solution for today. They have the added advantage of being well suited to forms of transportation such as heavy-duty trucks, and marine transportation which can't currently be easily electrified. "Not everyone can afford to discard their current vehicle and replace it with an EV," adds Pinchuk. "Low-carbon fuels present an immediate opportunity to lower the impact of the transportation we all take for granted."
In May, and alongside significant support from the BC Government, Parkland announced a plan to increase low-carbon fuel production in Burnaby. This would strengthen B.C.'s leadership position, and upon completion have the equivalent effect of removing 700,000 vehicles from B.C.'s roads. "We are advancing design and engineering work for this project and expect to make a financial investment decision in the second half of 2023," says Pinchuk.
The Burnaby Refinery is not just a place for innovation. Many of its 500 employees and contractors call Burnaby and the surrounding areas home. "Our team doesn't just work in Burnaby, they live in Burnaby, says Pinchuk. "They are invested in the local community and are doing their part to ensure it continues to thrive."
"This commitment to the local community goes beyond our employees," said Refinery Community Relations manager Rajvir Basra-Rao. "The refinery is an active community member, with a recently revamped Community Advisory Panel (CAP), and support of community initiatives, including last month's 'Parkland Fun Day' in Confederation Park.
While the refinery has been integral to the Burnaby community for almost 90 years, October marked its fifth anniversary under Parkland's ownership. In addition to a continued focus on safety, this period has heralded tremendous innovation and has placed Burnaby at the very heart of BC's drive toward a lower carbon future.
To learn more about Parkland Refinery, visit www.burnabyrefinery.ca.