For a young child or even a casual sports fan, the inner workings of a professional sports team can be a mystery.
Sure, you can see systems at play in the live setting or glean some insights from post-game interviews.
But what is life like off the floor? What goes on behind the scenes? What buttons does a coach push to get the best out of his club? And perhaps most importantly, what makes a team, a team?
The Vancouver Warriors' recently released docu-series "Be A Warrior" sheds light on precisely those talking points and more, giving fans a unique, inside view of a professional lacrosse team.
"Be A Warrior follows the team and our new coaching staff throughout the season and provides an in-depth view into the world of professional lacrosse," explains Troy Cordingley, the Warriors' first-year head coach. "We want to show what it takes to be an athlete for the Warriors and give our fans a behind-the-scenes look to get to know them better."
Episodes will be available throughout the season to show the personality of the team and the coaching staff while focusing on different aspects of the club, allowing fans to get to know the players off the turf.
This unfiltered, all-access series is meant to showcase the team's connections on the turf but also touch on their lives outside of lacrosse as many players work full-time jobs as firefighters, real estate agents, engineers and more.
Released in December, episode one is entitled "Culture Changes" and documents the club as it gears up for the regular season campaign.
It begins with 12-year veteran and team captain Brett Mydske proclaiming, "This was by far the hardest training camp —physically and mentally – that I think anyone's ever been a part of."
Expectations are laid out, and instructions are given on the practice floor in a manner that's part father figure, part disciplinarian, and all business.
"We're not going to be about excuses, gentleman," Cordingley tells the group in a team meeting. "We're going to be about work, and we're going to be about team."
Talk can be cheap in the sports world, but Cordingley's track record and experience speak for themselves.
His coaching resume includes two Champions Cup titles (2009 and 2011) and four Champions Cup Finals appearances (2009, 2010, 2011, 2016). He has also twice been named a finalist for the Les Bartley Head Coach of the Year Award (2009 and 2016), winning the award as head coach of the Calgary Roughnecks in 2009.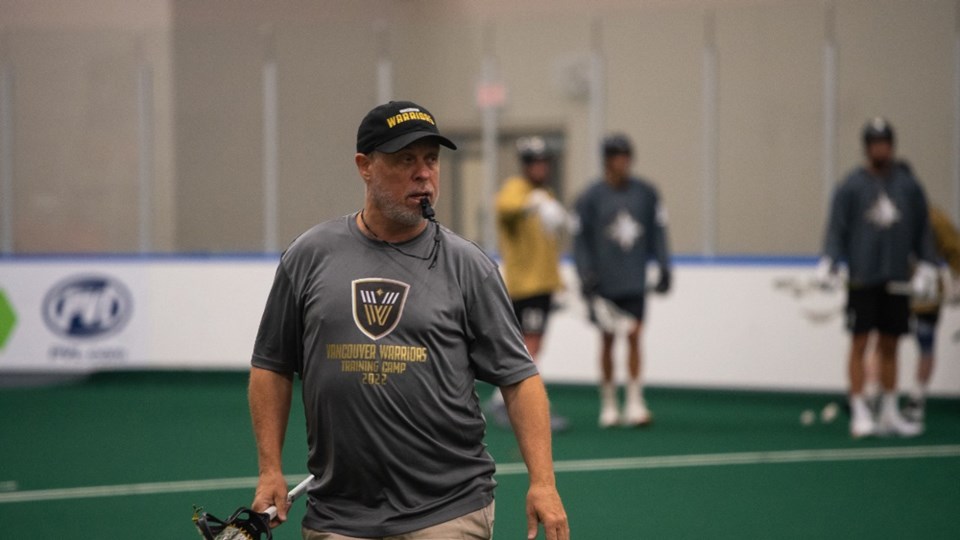 Prior to his coaching career, Cordingley played nine seasons in the NLL, recording 312 points in 87 regular season games. He also added 33 points in nine career playoff games, winning championships with the Buffalo Bandits in 1993 and 1996.
"As long as I have been around this game, there are always different personalities on the team, whether it be the serious guys, the jokers, the troublemakers, or the followers," Cordingley describes. "What brings a team together is when all of these different personalities mesh under the one goal of 'team.'"
As the practice sessions in episode one progress, Cordingley makes his philosophy clear: hard work beats talent, quitting is not an option, and battle levels must always be consistently high.
"The first time talking to him, I knew things were going to be different," notes Coquitlam native Keegan Bal. "You know that it's for the betterment of the team because he's done it before because it's worked for multiple teams – not just one."
Episode one of Be A Warrior is online on the club's YouTube channel.
Tickets for the team's upcoming games are available here.