Comfort and security. They are a simple pair of words possessing great promise and value, that, when combined, also produce a desirable state and destination, especially when it comes to your finances.
But how do you achieve that feeling, how do you get there?
MGM Financial has a proven and trusted road map to chart the way, one they have been using to guide clients along since opening their Burnaby office in 2010. And at the core of what their financial advisors do is based on developing trusted relationships with their clients.
"We really get to know our clients well and create customized plans," says Mike Mollica, company founder and senior financial advisor. "We find the right solutions for people. We don't just provide them with a product.
"We match clients with the right strategy to achieve their goals."
This is what best characterizes MGM Financial's holistic approach to financial planning.
"We do a bit of everything," Mollica says. "We look at the big picture. We are independent, so we don't have any financial institution watching over us, telling us what to do, what strategies to implement. And ultimately, we do what's right for the client."
MGM Financial can take care of all areas of personal and corporate financial planning, including investment management (RRSPs, TFSAs, pensions), retirement, estate and tax planning, insurance planning (life, critical illness, disability, key person, buy-sell coverage), and benefit plans for small to medium businesses.
"At the end of the day, our goal is really to give clients peace of mind," Mollica says. "If they leave our office feeling better than when they came in, knowing they have been taken care of well, then we have done our job.
"And if a client comes to us and says, 'Thank you for helping us out,' or 'Thanks for making this more clear for us, we feel like we're in good hands,' we take that responsibility seriously, to heart, and it makes us strive to succeed, achieve positive results, and become that trusted person in their lives."​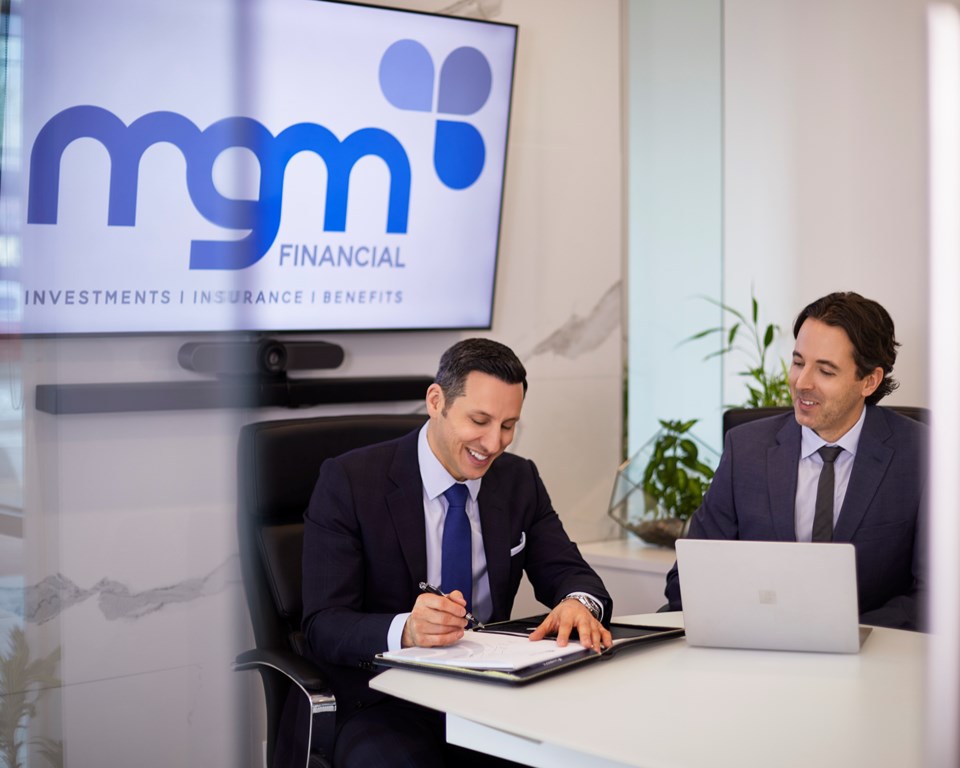 That commitment has led to an increasing number of personal referrals from clients, something Mollica says is a true measure of MGM Financial's success and growth.
"Essentially, that's how we've built the business," he says. "It's about building long-term relationships, doing a good job for people, and then being recognized for that, which leaves us with a sense of satisfaction knowing we've touched customers' lives in a positive way."
What helps make all of this possible is the company's independent, holistic and boutique-style structure.
"We can be nimble in providing guidance without any outside influence. This allows us to help people who want to get started with a plan for the first time as well as helping others who are more established with more complex situations, we've seen it all," says Mollica, who is joined by colleague Steven Kanjer, and together they have more than 30 years of experience in the industry.
For more information about how MGM Financial can help chart your financial future, visit their website at mgmfinancial.com.