These are the universal experiences that invigorate the mind and soul.
The endless joy in hearing your children laugh, noticing the first songbird mark the morning sunrise, or listening to your favourite piece of music.
But what if the freedom afforded by proper hearing was suddenly gone?
Or worse yet, what to do if financial barriers prevent you from regaining your hearing, and in turn, your independence?
Burnaby's Neil Squire Hearing Solutions has been dedicated to amplifying the sounds of life by delivering compassionate, patient-focused service for close to four years, while Neil Squire Society has been around for nearly four decades.
"When a person comes to our practice they can expect high-quality service, client-centred care, and they can expect to learn something. Knowledge is always the first step to empower someone moving forward and taking action to improve their quality of life," explains Registered Audiologist Heather Ritchie.
Dedicated to the prevention and treatment of hearing loss, Neil Squire Hearing Solutions is a fully equipped hearing health centre offering the latest advances in hearing aid technology at a price that is affordable.
These wraparound services are all-encompassing throughout the hearing journey: free hearing tests, ear wax removal, and hearing aid consultations, along with custom hearing protection, tinnitus consultations, hearing aid repair, and ongoing support.
And because the organization operates as a non-profit, grants and subsidies are available to those in virtually any income bracket or from any socioeconomic background.
"It's really incredible to see the change in someone who is struggling, and who relies on their children to communicate, transform their lives throughout this process," Ritchie says. "When we see them after the hearing aid fitting and they're hearing well again, they're able to book their own appointments and achieve another level of independence – it's almost like they get their lives back."
​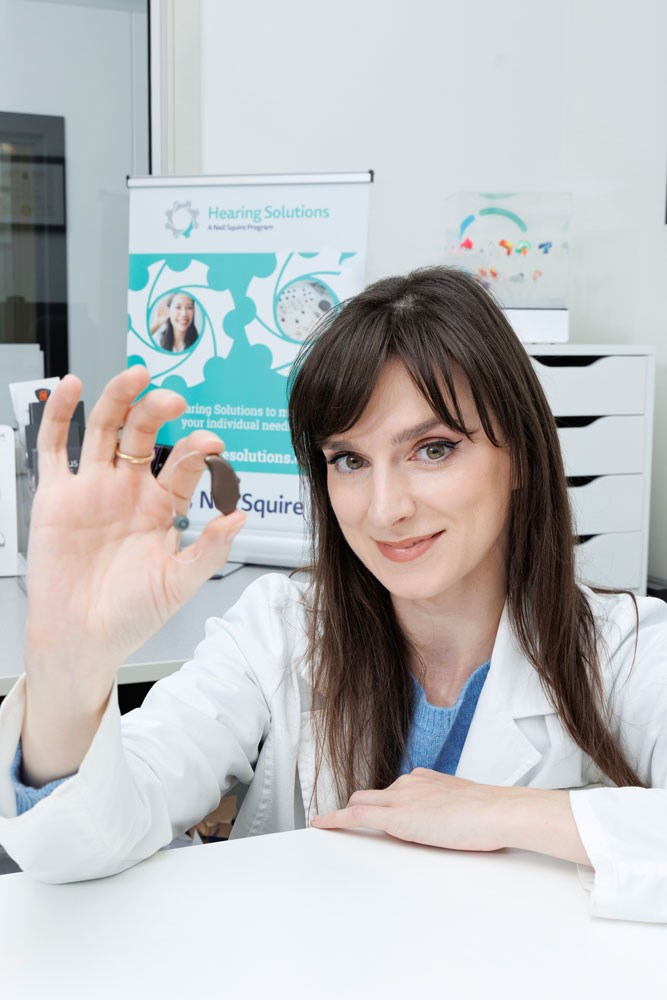 ​Far too often, people experiencing hearing loss are reluctant to take action. It could be the fear of the unknown or fear of the costs. Or in other cases, because hearing loss typically happens over a prolonged period, some people simply don't know their hearing is declining over time.
Given that hearing loss can be associated with cognitive decline, the time to act is now.
And no referral from a family doctor or other medical professional is needed.
"I understand why some people may be hesitant because hearing problems can happen for many reasons," Ritchie says. "But anyone can access our services through a phone call to schedule an appointment."
When you choose Neil Squire Hearing Solutions, you are supporting people with disabilities in your community – all proceeds from these services go towards Neil Squire programming for people with disabilities.
And regardless of what led to someone's hearing problems, Ritchie makes a concerted effort to ensure that the first step in recovery is to understand the why – this empowers the client to better understand their condition and become invested in the recovery.
"When you finally do get those hearing aids, the difference is often night and day. And it's not something that is noticed just by the person, the benefits of hearing aids are noticed by the family members and other people in their lives," Ritchie says.
To learn more, visit www.neilsquirehearingsolutions.ca.