At age 76, master tailor Pat Cocco still works six and a half days a week in Seville Tailors, his Burnaby business.
"I have no plans to retire. What am I going to do? I'll get myself into trouble. In the morning, I look forward to getting up and doing what needs to be done. It keeps me going," Cocco says.
"My work gives me a lot of pleasure. It gives me a good feeling to serve a customer. If you make them look good, they're going to feel good."
Located on Curragh Avenue, Seville Tailors stocks the finest English and Italian fabrics that can be tailored into just about any custom style of garment, including men's and women's bespoke suits, tailored legal attire, uniforms, kits, tuxedos, skirts, topcoats, slacks and more.
With a reputation for excellence, Seville Tailors has been tapped by Hollywood productions to produce costumes for film and television.
"You name it, we can make it," Cocco says.
"For Sean Bean in Snowpiercer, we made the outfit that he wore at the masquerade party. It's quite the masterpiece."
Seville Tailors suits were also on the world stage when they were asked to create outfits for the opening ceremony of the 2010 Olympics in Vancouver.
"The whole world saw our work that night," Cocco says.
Throughout his career, Cocco has dressed notable celebrities in custom suits including Don Cherry, Richard D. Anderson, Ben Affleck, Robin Williams and a host of other stars.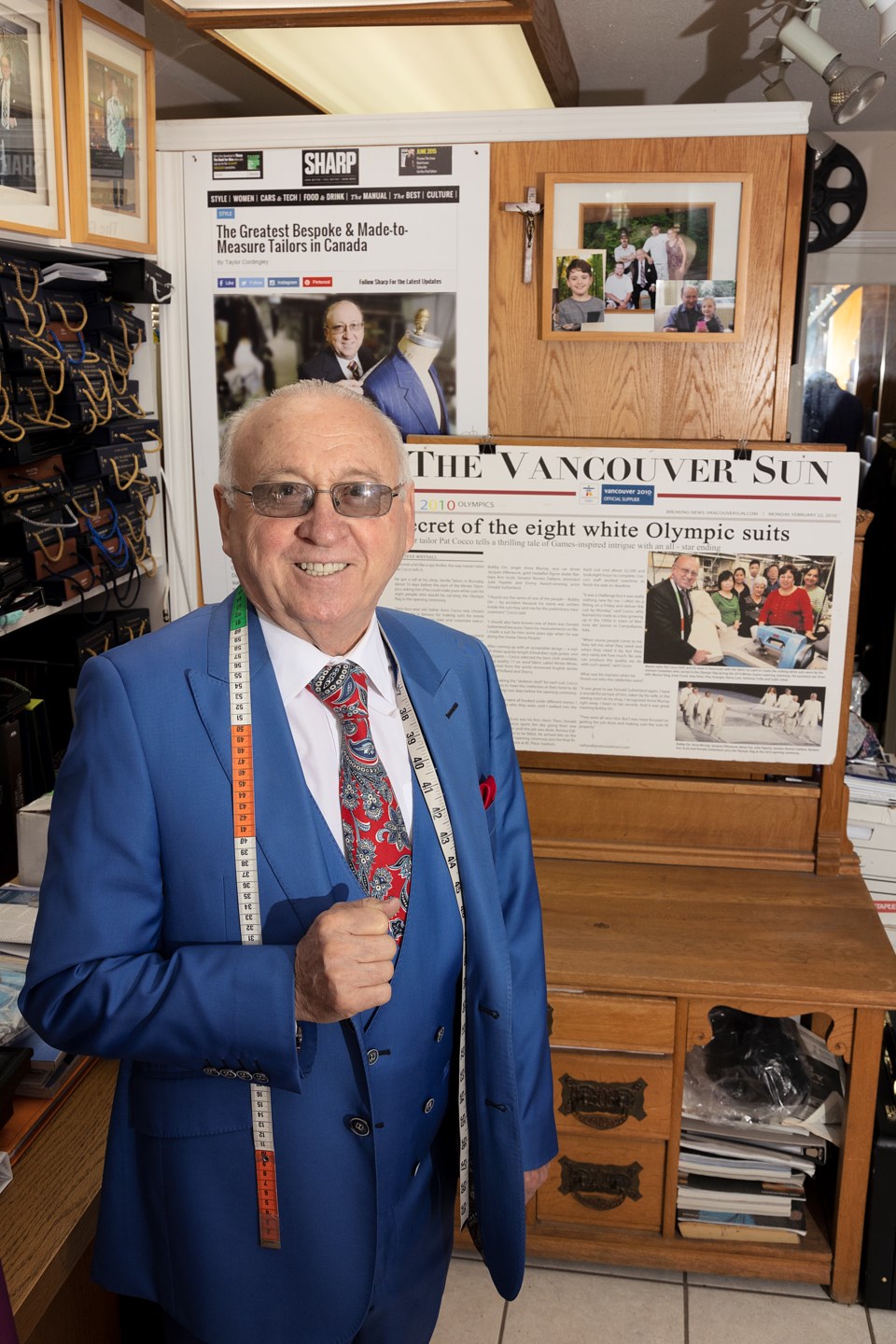 Cocco began his tailoring apprenticeship at the age of 10 in his home town of Morrone del Sannio in Italy. When he moved to Canada at age 12, he continued to work as a tailor and served as a designer and product developer for two of Vancouver's most prestigious manufacturers for over twenty years before he decided to strike out on his own to found Seville Tailors in the 1980s.
He considers his staff part of one big family, with the longest-serving staff member having been there for over 20 years.
Quality above all has been Cocco's key to long-term success along with a hyper-local focus on custom-made work. Everything is produced in Seville Tailors' Burnaby shop.
Cocco aims to have every client feel proud to own a Seville garment. To do so, Seville Tailors adheres to the following core principles: complete honesty, supportive teamwork, collaboration and communication, and dedication to top performance. Success is measured not just in profits but in word-of-mouth reputation and repeat client base.
"We take pride in our work and we aim to please our customers. Quality is our pride," Cocco says.
"We're building relationships with clients who come back time after time and tell their friends."
To learn more about ordering your own custom-made bespoke tailored suit today, visit sevilletailors.ca.