For the first time since 1987, Derek Corrigan will not be a member of Burnaby City Council.
The five-time mayor and multi-term councillor was upset Saturday by his archrival Mike Hurley, a retired firefighter.
It was a stunning upset considering Hurley had never served on council or school board before.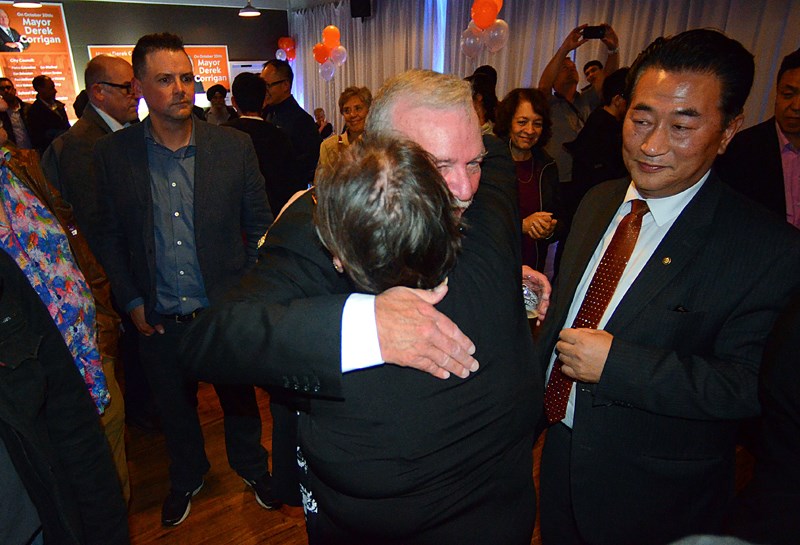 The results confirmed a recent poll released Wednesday showing Corrigan eight points behind Hurley. Despite some last-minute announcements of new recreation centres around the city, as well as two sheets of ice in south Burnaby, Corrigan failed to overcome that deficit.
With 51 out of 51 polls reporting, Hurley garnered 26,260 votes to 20,333 votes for Corrigan. Voter turnout shot up to 33.46 per cent from under 25 per cent in 2014.
Following way behind were Helen H.S. Chang with 2,178 and Sylvia Gung with 549 votes.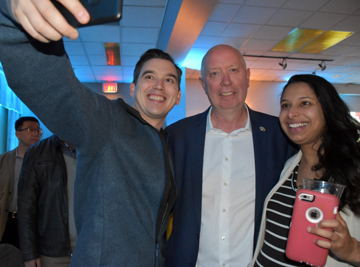 "We will have a moratorium (on demovictions) in Metrotown," Hurley told the crowd in his acceptance speech.
"We stood loud, we stood proud."
Hurley also thanked Corrigan for his many years of service.
"He fought the battles as he saw them and for that he deserves our respect," he said.
Corrigan actually showed up at Hurley's victory party to shake hands. Earlier in the night, Corrigan addressed the BCA faithful and thanked all of the party's volunteers and members for their support. He said he was proud of his time as mayor and that he had "stood up" for the community.
The mayoral campaign was bitter and nasty, with Corrigan at one point criticizing Hurley by saying that the Burnaby Fire Department – which Hurley retired from earlier this year – was too "white" and didn't hire enough women. Coun. Dan Johnston was also criticized by Burnaby Citizens Association members for emailing out a letter on Thursday night alleging that Hurley had aligned himself with "bigots."
Hurley's campaign was backed by the IAFF firefighters' union, which issued an attack ad criticizing the free golf city courses that Corrigan has received in the past.