A proposal to reduce the required amount of parking in certain residential developments in Burnaby is one step closer to council consideration.
A new plan, after council rejected an interim version in July, would see the minimum required parking ratio reduced in multi-family strata buildings and purpose-built rentals near transit, depending on the number of bedrooms the unit has and how close it is to a SkyTrain station.
The ratio will depend on whether the development is within 400 metres of a SkyTrain station or between 400 and 800 metres.
A staff report, which went to the city's planning and development committee Sept. 11, acknowledged some homes under the proposal would not include an allocated parking stall.
Burnaby's proposed parking minimum requirements
Strata (studio and one-bedroom units): From one stall per unit to 0.4 or 0.45
Strata (two-bedroom units and up): From one stall per unit to 0.9 or 0.95
Rental (studio and one-bedroom units): From 0.5 stalls per unit to 0.3
Rental (two-bedroom units and up): From 0.5 stalls per unit to 0.75 stalls
Visitor parking would remain at 0.1 stalls per unit
Developers would typically assign and sell parking stalls as part of the larger, two-bedroom-or-more units and sell the remaining stalls on a first-come, first-served basis, according to the report.
Developers would still be allowed to build more parking than the required minimum.
Staff expect people who move into the transit-oriented neighbourhoods will likely own fewer vehicles, and "as such not all units will need to have an assigned parking space," states the report.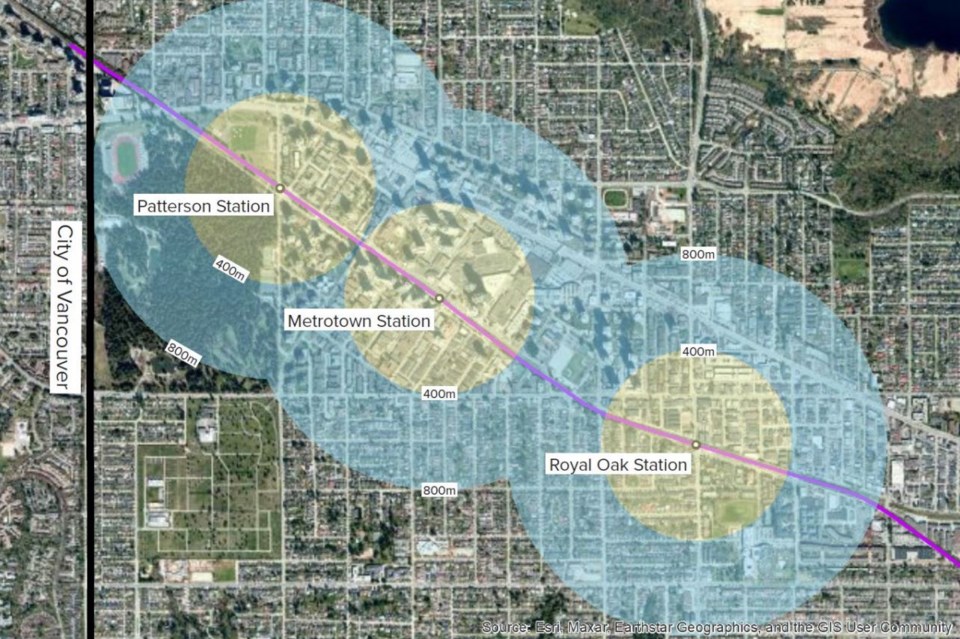 The proposal would also require developers to provide a package of incentives and tools to residents to support alternate means of transportation, like bike parking and maintenance, transit subsidy passes, car share, bike share and other measures that support non-vehicle travel.
The city says the program of incentives, called "transportation demand management" (TDM), can reduce the demand for parking from five to 30 per cent and reduce the need to supply off-street parking at origins and destinations. Currently, Burnaby negotiates with developers on these measures on a site-by-site basis.
Mayor Mike Hurley said transportation is going to change rapidly.
"How we move around the city in 20 years is going to be totally different than it is today," he said at the meeting.
"I know others are nervous about cutting down the parking, but I think it's time to move on this and it's time to get to where we need to be," he added.
Burnaby's Transportation Plan
The City of Burnaby aims to shift three-quarters of all its trips to those made by public transit and active transportation by 2050, a target enshrined in the city's overarching transportation plan that was unanimously approved by council in December 2021.
To meet the target, the city says its transit-oriented neighbourhoods will need to have a higher proportion of trips made by public transit and active transportation "to overcome predominant auto modes areas."
More than 40 per cent of Metrotown residents already use alternative modes of transportation, staff said at the committee meeting.
ICBC data from 2022 showed an average of 0.74 registered vehicles per home across 41 transit-oriented sites (8,331 dwelling units), according to the report.
Within 400 metres of a SkyTrain station, the parking rate was 0.69 vehicles per unit and between 400 and 800 metres, it was 0.89 vehicles per unit.
Staff noted they would expect to see the effects of reducing parking minimums in about five years, to give time for the developments to be built and then to measure the effects of the incentives.
The committee unanimously recommended the plan be brought to council for consideration.
Council will discuss the plan and vote on it at a future meeting.