Do you enjoy carving up fresh powder on B.C. mountains?
Well, it appears Burnabarians are more keen on shredding down local hills than most other major cities in Canada, according to a global snowsport website
And that includes Vancouver, Calgary, Ottawa and Gatineau.
SnowSeasonCentral.com recently released a study that claims Burnaby is the country's second "most snowsports obsessed" city per capita based on Google Search data.
The outlet is an online resource for skiing and snowboarding, winter season information and guides to mountain backcountries, including those across Canada, the United States, Europe, Japan, Australia and New Zealand.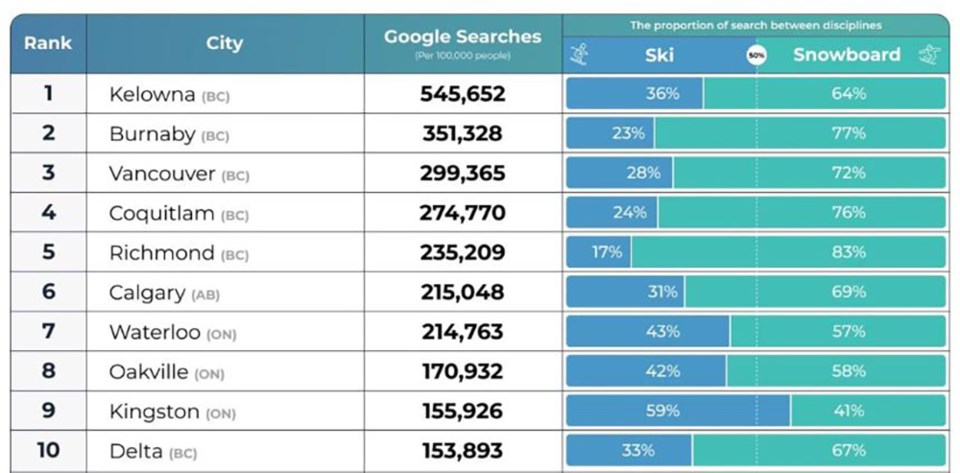 Burnaby's snowsports search volume was 351,328 per capita (per 100,000 people).
Kelowna came in at number one on the list of 50 Canadian communities with a search volume of 545,652 per capita (100,000), which was 683 per cent higher than the national average.
Burnaby appears to have a greater interest in snowboarding with a search rate of 77 per cent, according to SnowSeasonCentral.com, which was above the national average of 68 per cent.
The remaining 23 per cent was for skiing.
Burnaby was also one of six B.C. cities in the top 10 of the outlet's report; Kelowna (1), Vancouver, (3), Coquitlam (4), Richmond (5) and Delta (10).
"We also looked at the same metrics at a national level to see how Canada fared against the United States, United Kingdom, Australia and Ireland," SnowSeasonCentral.com said on its website.
"Out of the countries, Canada had the highest search volume per capita, 44 per cent higher than the USA. Canada also had the highest share of snowboarding searches compared to skiing."
SnowSeasonCentral.com's research analyzed more than 6,000 ski-related terms to reveal which Canadian cities are the "most snowsports obsessed."