The urban village lifestyle is well on its way to Burnaby.
After Burnaby approved two "urban village" concepts last year, which are intended to "bridge the gap" between larger town centres like Brentwood and smaller-scale residential neighbourhoods, developers have brought forward two new master plans for North Burnaby's Bainbridge village.
The master plans propose two different neighbourhoods with a total of 26 new buildings and more than 8,300 homes.
The proposed master plans deal with two separate properties near Sperling-Burnaby Lake SkyTrain station off Lougheed Highway: the Burnaby Lake Village at 6800 Lougheed Hwy., developed by Sperling Limited Partnership, and Burnaby Lake Heights, developed by Create Urban Development Corp., at 7000 Lougheed Hwy.
Staff say both neighbourhoods are a "significant opportunity to create not only transit-oriented development, but a vibrant, distinct and walkable village centre."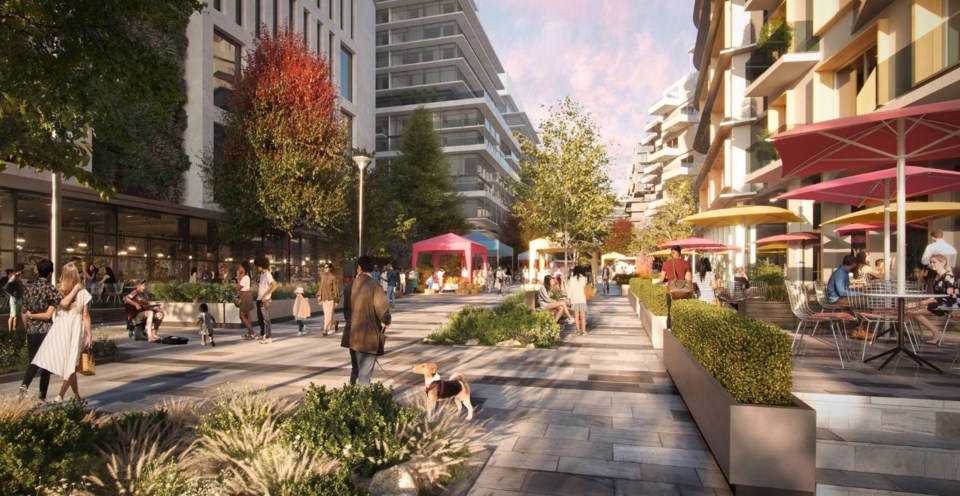 Burnaby Lake Village
The Burnaby Lake Village (6800 Lougheed Hwy.) site is 18.81 acres in the southeast corner of Lougheed Highway and Sperling Avenue, where the Saputo milk plant is currently located. Saputo is scheduled to be closed "in the near future," according to a staff report.
Directly to the east of the Sperling-Burnaby Lake SkyTrain station, the neighbourhood is planned to include 14 residential and mixed-use buildings with two new streets, adding more than 4,800 new homes to the area.
The buildings will range from 12 to 25 storeys and be built over five phases.
There's a possibility of adding another building on the bus loop site beside the SkyTrain station, with buses on the street or under the building in a new loop, with added retail and commercial uses on the building's lower level and residential above.
It has the potential to add more than 1,000 new jobs in retail, hospitality and knowledge-based industries, according to the staff report.
A large public plaza will be created as "an ideal setting for markets, festivals and community gatherings."
A new street will be created that will feature a landscaped waterway, daylighting a portion of Pollywog Creek.
Staff said either the developer or the province could acquire a city-owned property at 6815 Winston St. to create a "more integrated pedestrian and bicycle connection with the proposed development, the existing overpass and the Central Valley Greenway," which would be considered at a future date.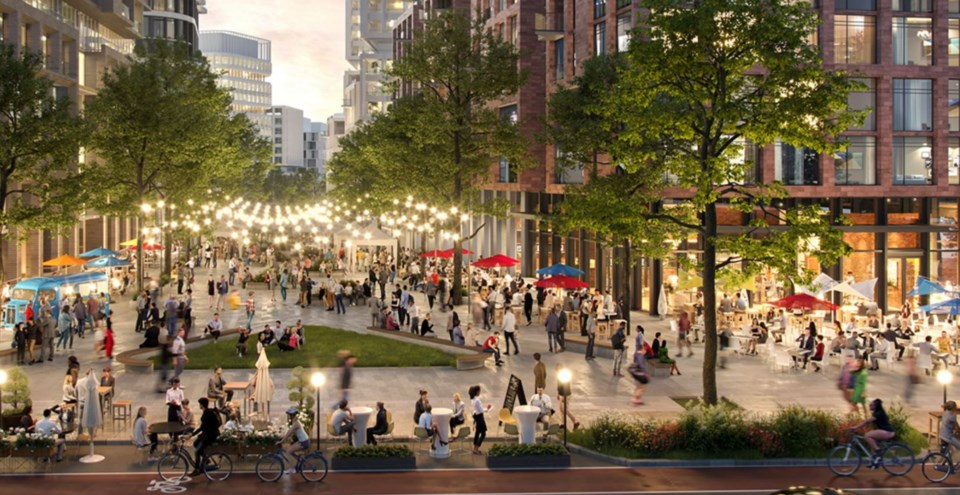 Burnaby Lake Heights
At 7000 Lougheed Hwy., directly east of what would be Burnaby Lake Village, developer Create Urban Developer Corp. plans for residential and mixed-use buildings in a 14-acre neighbourhood called Burnaby Lake Heights, according to a staff report.
The site was previously home to a Telus communications facility and is now mostly vacant.
With more than 3,500 homes planned over 12 buildings ranging from eight to 16 storeys, the plan proposes four main phases of development.
The developer is also proposing a community club building "intended to be a welcoming space for residents throughout the Bainbridge area and is envisioned to include space for child care, co-working, non-profit office space, meeting space and fitness facilities."
The community club would be available for anyone in the community, not just residents of the development, according to the report.
The master plan also considers two study areas, made up of eight single-family residences, which could be part of future development if the properties are acquired and consolidated.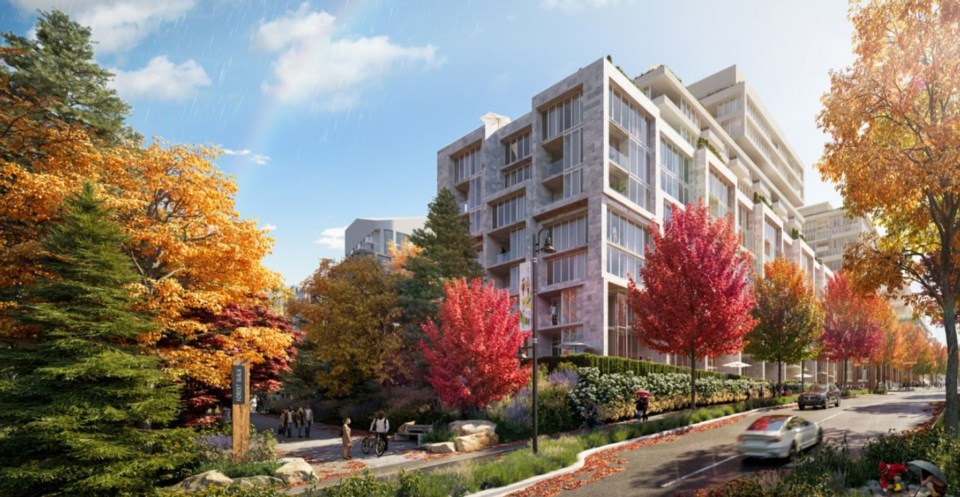 The beginnings of Bainbridge urban village
Both developments, Burnaby Lake Heights and Burnaby Lake Village, could see a "broad range" of uses including:
Residential strata
Market and non-market rental
Live-work uses
Retail
Office
Child care
Medical services
Grocery stores
Hospitality
Potential for seniors' housing
"Complimentary industrial manufacturing uses" such as brew pubs
Public consultation found some concerns about the need for "distinct urban village building forms" that move away from a typical tower-with-podium setup.
The public also said there is a need for schools in the area. Staff said there's a potential site in the northwest corner of Buffalo Drive and Phillips Avenue if the school district decides a new school is required.
The reports estimate all phases of both master plans could be completed over a 15-year period, though it notes exact timing depends on market conditions.
Both master plans propose general development guidelines and don't put forward specific projects for approval.
If council approves the plans on April 24, both plans will go to a public hearing at a later date, before returning to council for more steps in the development process.
New streets
New streets will include "the signature urban boulevard" called the Esplanade, which will run from the SkyTrain station to Bainbridge Avenue in the east, acting as a retail high street "bookended by two urban plazas."
The Esplanade won't be 100 per cent pedestrianized, but it will have "pedestrian-focused curbless design, with large setbacks for café seating and product displays and special paving."
The communities will also be connected by the "Forest Walk," a "naturalized green space with walking trails," and the Serpentine, an east-west greenway and community space.
The Esplanade and the Forest Walk will run from Burnaby Lake Village through to Burnaby Lake Heights.
Lougheed Highway will be "enhanced with a multi-use trail, pocket parks and soft landscaping."
"New and improved" pedestrian and bicycle facilities will be added along Lougheed, Winston and Greenwood to improve connections with the Central Valley Greenway and connect to the SkyTrain and Burnaby Lake Park.
The streets will be pedestrian-oriented with "wide sidewalks, reduced vehicular lanes and pedestrian crossings and strategic locations."
More assessments regarding parking supply and reducing vehicle dependence will come with future project applications.