Chances are we've all seen a Hallmark movie. Most likely around Christmas time, it's either on in the background at your mother's house or maybe you and your friends ironically sit down every year to play the drinking game (guilty!). And even if you haven't seen a whole movie or even a clip, everyone has an awareness of the network that raked in $390 million in ad revenue in 2018. These seven local actors are no exception.
When Antonio Cayonne isn't opening stand-out Vancouver restaurants like Say Mercy and Collective Goods with Chef Sean Reeve and Andrew Jameson, he's acting. Cardi Wong recently starred in an adorable ad partnership between Jeep and the new Jurassic Park movie that saw him adopting a pet dinosaur for better or worse. Fiona Vroom has popped up in countless projects and is set to appear in the new Grease prequel TV series that will air on Paramount+, and Matt Hamilton who was in the Disney+ series Turner and Hooch, just wrapped filming for a thriller. But they also have one thing in common, they're Hallmark regulars known as Hallmarkies. And just like us, they had their own first impressions of the genre before getting involved.
As part of a new series, we sat down with Vancouver Hallmarkies and asked them how they feel about the genre. Here's what each of them had to say about their impression of Hallmark before and after they started acting in the made-for-TV movies.
Antonio Cayonne (Christmas in Evergreen: Bells are Ringing, The Vows We Keep, Matching Hearts)
"I didn't understand [the Hallmark network]. I'm not the demographic, I would argue. And so the shows, for me at a glance I didn't really connect to. I didn't know what people were interested in. They all seemed very sweet and bubbly, but also a little simplistic. And then once I got on the inside, I started to meet the people involved. The actors, the directors, the production teams, producers, people at the network, and it really just shifted what I was looking at. And, actually, the thing that really shifted it was getting to know podcasters and reviewers.
Once I started being on people's podcasts and talking to them about the shows and hearing how they felt about them, I started to get a better understanding of why people were watching [the channel] and what they were watching it for.
Movies and television, in general, offer a little bit of escapism, but certainly right now, over the past five years, I would say these movies are really important. Because they're really giving people a way to access a world that they may not feel like they have access to on a regular basis. You know, it's more than just escaping reality, but it's really about finding something that they can embrace and fall in love with."
Adil Zaidi (The Perfect Recipe/Welcome to Mama's, A Christmas Together with You, My Best Friend's Bouquet)
"Honestly, it was interesting, because Hallmark has a reputation for being these Christmas movies, TV network movies, these romcom movies, and so I wouldn't say I had massive insight on what the company did. It wasn't honestly movies that I watched in my demographic outside of Christmas movies. I'm from Toronto, and in Toronto Hallmark is not nearly as big as it is in Vancouver. I started acting in Toronto and compared to Toronto, Vancouver has a much greater Hallmark presence. I think at the end of the day, it was a matter of just not really realizing how big their fan base actually was. It's massive. People love these movies."
Cardi Wong (Christmas for Keeps, My Best Friend's Bouquet, Always and Forever Christmas)
"It's funny because before I auditioned for Hallmark, I never even really knew it existed. Because as a kid watching cartoons and everything, my family and I never sat down to watch the Hallmark movies. But after discovering it and after auditioning, it blew up for me. Hallmark is so huge. I didn't realize what a huge community it really was. I think hallmark's always something that's gonna be around Vancouver for a very long time. And it's something that every single Vancouver actor's gonna eventually do at one point in their lives. And my personal experience is, it's great. It's so fun and you see the same people, the same crew and everything."
Donna Benedicto (Matching Hearts, Jingle Bell Bride, Sweet Carolina)
"Before I was in them, actually, I didn't have cable for a long time. I knew there were TV movies but I didn't really watch them too often. If anything, they were usually at a family member's house playing in the background or whatnot. And they really liked them. So I just thought they were great TV movies to have on while you're doing laundry and doing whatever else, and you get to check back in with them and they're feel-good happy-go-lucky movies. And then when I was in them, I was very, very, very grateful to be in them obviously, and paid a lot more attention. And just was really happy that they gave a full Filipino girl who isn't light passing an opportunity to be seen for more than five minutes."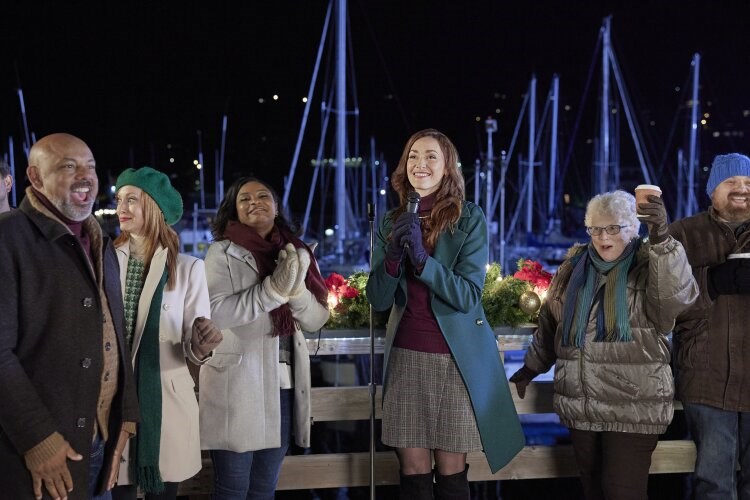 Fiona Vroom (Nantucket Noel, Deliver by Christmas, The Wedding Veil Trilogy)
"I think Hallmark has a place in the holiday heart of every home. My sisters and my mom loves watching Hallmarks, and it's something that we put on TV during the holiday season. It's a TV movie, right? It's a feel-good after-school TV movie. There's nothing that I don't like about them.
I think it came about more while working on them because I had to do the research of what is this land? What is this world? What is the style? What is this genre? What is the brand? Because for every role you should be putting yourself forward and representing that style.
Like if it's a horror movie, you're auditioning for you present yourself a little bit differently than you would for Hallmark, say. So I think I did get to know the whole world of it, the whole universe through working in it.
I will do everything I can to support females in this industry because it's so hard. So what I love about the Hallmark template is it's all about lifting up women. I usually play the best friend and that role entails a lot of support to the lead character. It's a tricky line because you're the supporting character so you can't overdo it. You can't scene steal from the lead. You're there to support them and to lift up their performance and to lift up their storyline. And if you succeed at that it really does shine, it makes everyone shine. And I love playing that supporting character, often I find I get the funny lines. The supporting characters are often like a little bit more quirky or a little bit funny and they get to shine in their own sort of weird way and I love fitting that shoe."
Matt Hamilton (Campfire Christmas, North to Home, Fashionably Yours)
"To be honest, I didn't really have an awareness before I started doing them. They're just so far outside my radar and stuff I'm interested in. And to be honest, even now I don't watch them. I'll maybe zip through to see what they kept or what they liked, or I'll have it on in the background. I will say this though, I don't really enjoy them but I do have an appreciation for what they do. I get it now.
I got into acting through writing. And so, for me, reusing cliche, tropes is kind of—I hate it. Like, why? There's got to be an original way to do this. However, that was before I kind of understood what makes these movies so popular. Why people liked them is the familiarity and the ability to have it on and then walk out of the room and go grab a tea and come back and you miss stuff, but you didn't really miss stuff because you kind of know where he's going.
So it was about reconciling with what you're doing. And so while it's not the most original art that might get you invigorated, there's certainly a place for it. As we see because it's become, you know, bigger and bigger and now it's this enormous thing."
Nathan Witte (My Best Friend's Bouquet, A Christmas Treasure, Sealed with a Kiss)
"I didn't know very much about it and I was very eager to be a part of anything when I booked my first Hallmark in 2014. So I was excited and thrilled...before I was a little bit more intimidated being a little bit fresher to the industry and now having a little bit more experience I don't feel as intimidated or challenged with Hallmark as I did before, and I think that's because Hallmark tends to be quite formulaic, and I didn't really know that before because I didn't watch a lot of Hallmark before I got into it...Now looking for Hallmarks that are going a little bit deeper than before, so a little bit more choosy."
"I like Hallmark a lot because I think Hallmark, in my perspective, is like Canada's soap operas, so to speak. It's like our Days of Our Lives...Hallmark is a great stepping stone for actors to get their feet wet. And it's also kind of the bread and butter for not only the actors but the people behind the camera and those professionals. They help pay the bills day to day for, for most of us in this industry."
More Meet the Hallmarkies: