Pre-pandemic, I sat down with Vancouver restaurateur Antonio Cayonne but it wasn't to discuss food. I was interviewing him about a guest-starring role on Supernatural, the long-running show was coming to an end and I wanted to speak to local actors who had appeared on it over the years. It was a rite-of-passage for working Vancouver actors to be the CW on the urban fantasy. Some had even been on it twice as different characters because when there are ten years between episodes, who's going to remember you were a vampire last time when you're a demon this time?
That interview was also the start of my introduction to the role Hallmark plays in our local acting community. Cayonne put me in touch with his peers, one of whom was Rukiya Bernard, and he told me he just played opposite her in a Hallmark movie called Christmas in Evergreen: Tidings of Joy.
The thing that struck me about that interview was how highly he spoke of his co-stars and the camaraderie between actors in Hallmark movies. But then life moved on and we entered a pandemic.
It wasn't until it was announced that Cayonne and Bernard would be getting their own Christmas in Evergreen film where they would be playing love interests and that the movie was one of the first-ever Hallmark Christmas movies to star a black couple as the leads that I was re-invested in what this network is doing for Vancouverites in the film industry.
As it turns out, yes, the Hallmark community really is notoriously tight-knit with many actors going on to be friends outside of filming. As part of a new series, I sat down with seven local actors known as Hallmarkies and asked them to talk about their own personal experiences as part of the Vancouver Hallmark community.
And while I couldn't include everything they said, I will tell you that many of them mentioned each other without realizing who was being interviewed.
Antonio Cayonne (Christmas in Evergreen: Bells are Ringing, The Vows We Keep, Matching Hearts)
"When I start to look at the Hallmark world what's exciting about it, maybe it sounds strange when I use the word exciting, but the people are salt of the earth, you end up on set with people who actually care about each other. And it feels like that is actually a central piece of the puzzle when it comes to Hallmark.
I can talk about actors, actors are an interesting one. Because most of us book the jobs like, we don't necessarily choose to sign on unless you're leading the film, everybody else auditions. And if you're given the opportunity, you jump at it and you take it. But every time I have walked onto the set quite literally starting with my first time with Hallmark ]with co-stars] Taylor Cole and Andrew Walker, I couldn't have been surrounded by better humans. They were so kind, so generous, they really set the tone for what a set should be like and how people should be treated. They take care of each other.
And without pointing fingers at other productions or genres, I've certainly been on set with people who are in the top position, number one and number two, who are unkind, who don't make eye contact, or don't speak to you sometimes, who don't take the time to know your name. And it's par for the course, but it doesn't really feel good. And I've never had an experience like that in Hallmark."
Cardi Wong (Christmas for Keeps, My Best Friend's Bouquet, Always and Forever Christmas)
"I've literally stopped counting how many Hallmarks I've done now. So I've worked with most of the top famous, most popular Hallmark people and my experience with all of them has been honestly so great. Because I think the subjects that we're dealing with within Christmas—it's not like super duper high stakes life or death kind of things. The actors must treat it like that for it to be impactful but it's not genuinely something that's going to be so soul-wrenching. These are like cookie baking, these are like, 'how are we going to get the tree up in time?' So these are life subjects, and it's so fun to work in that kind of world. And not only that, everyone loves the Christmas movies, so they've all been very supportive. I love doing it. I love to try to at least do one Christmas a year."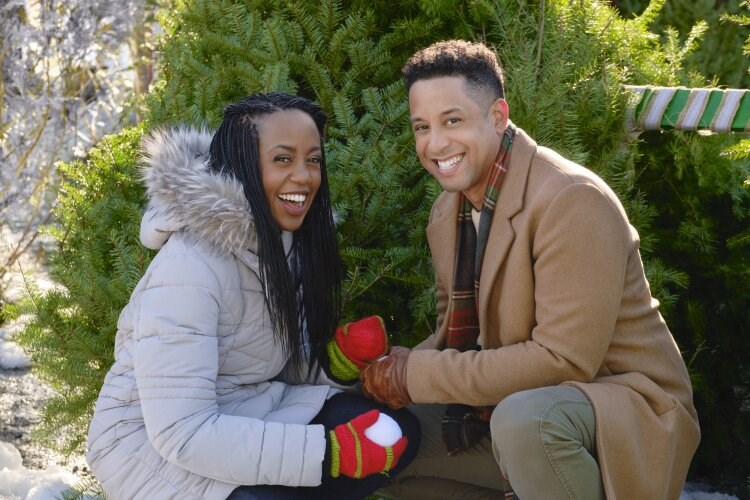 Donna Benedicto (Matching Hearts, Jingle Bell Bride, Sweet Carolina)
"The network really gives people a chance, it's fantastic. Like a lot of big American networks have their people that they fly in from L.A. and from my experience, and from some other people's experience, they kind of look at the smaller roles, they keep those open for the Canadians. But Hallmark actually gives new actors a chance. They like to see different people and use different people. So that's great. They've always been welcoming, always amazing. Even the actors and all the leads have been so sweet. It's always really warm when I'm on set and working on Hallmark projects, like the directors and a lot of the actors do work together quite often. And that's like a little Hallmark family in Vancouver over here."
Fiona Vroom (Nantucket Noel, Deliver by Christmas, The Wedding Veil Trilogy)
"It is like a family. I would say it's very much like a family. There's lots of actors here that work on Hallmarks. And there are lots coming up that are still trying to get into the Hallmark world. I coach actors and I have a studio in my house. They come to me for a lot of Hallmark auditions.
It took me actually eight years of auditioning for Hallmark before I got hired to work for them. So that's what I tell my actors that come in for coaching. They're like, 'I don't know, I've auditioned four times and I've come close and I don't know why I'm not booking,' and I'm like, 'Oh, it took me eight years to audition, you know, 900 times for Hallmark before I got hired.' And I think a lot of that is building up trust. I think casting has to trust you. They have to know your work really well. And then they can push for you. And if you do consistent work and they trust you, then I do think that it will work out for you. But Hallmark once you're in, the great thing is, that it's like a family and then the trust is there. And you can hopefully be rehired. If you're lucky."
Nathan Witte (My Best Friend's Bouquet, A Christmas Treasure, Sealed with a Kiss)
"There's definitely mixed reviews in Vancouver when it comes to the guise of Hallmark. There are actors here that are what I consider an actor's actor. And they're more or less a paid actor—being paid as an actor is such a blessing because it's such a narrow window of success for a lot of people that to be paid is such a wonderful thing. So for me, getting into the industry was like, 'I'll do anything at almost at any time' and if you're going to pay me, wonderful. I'm an actor, that's what I do, I act. But there are actors in the city—of course, we all got to decide our own career paths—but even at the beginning of their careers who have decided in their heads that they don't want to do Hallmarks.
And they've created this idea that they don't want to get stuck in the Hallmark world. And there's this sort of fervour within the industry that Hallmark's a black hole for the actor. And once you do too many you get stuck there. And I don't believe in that narrative.
Personally, I believe that I can decide on my career at any point and my career doesn't decide for me. But then those who are in the Hallmark world, we all love it. And we think it's a fantastic place to be. Not only does the company produce, I think it's over 200 films a year, which is astronomical but they're also providing a very optimistic and hopeful narrative.
And despite what I said about sometimes it being too surface, there's still an audience out there that is looking for something like that, and where it's actually resonating.
What I do love about Hallmark, and I'm quite sure I can speak for a lot of other people actors in the industry, is that it's very refreshing at times to not just be so subjected to sex and drugs and violence which tends to be driving factor for a lot of TV shows out there because those three things can create a lot of conflict within a story. And so it's nice to know that there's a large demographic of people out there who are letting everyone know even the film industry that they're seeking things other than what I just mentioned.
And Hallmark is one of the most rate high-rated, or most-watched channels or networks, I think in the United States if not North America. And that just kind of goes to show as a testament to what people are craving. And so I love being a part of that. I love being a part of spreading more love because you can't go wrong with spreading more love."
More Meet the Hallmarkies: