The ponds of Burnaby's Central Park are "unsafe," "degraded," "collapsing" and "polluted," according to a new city staff report.
"They are in need of a complete overhaul," staff said in the report.
In response, on April 3, city council approved a staff recommendation to create a master plan of Central Park as a whole, including its ponds and recreation facilities, before deciding what to do — and how much to spend — to fix the ponds.
Central Park's two ponds and linking streams were built 60 years ago, with dug-out basins with sandbag edges and a clay bottom, to attract birds and create a "pastoral setting for recreation trails," according to the report.
But city staff say the ponds have become unsafe and lose significant amounts of treated water.
'Degraded and eroded'
"Although scenic to look at, (the ponds) have unsafe banks and edges that are collapsing and stagnant water causing ongoing algae blooms," staff wrote, adding the ponds are "polluted with excess nutrients that continue to cause algal blooms and fish deaths."
The banks are "degraded and eroded" and harbour invasive plants; the lawns that used to extend beyond the edge of the pond "have been trampled by both geese and humans along the entire shoreline."
"The water quality is poor; water fowls such as Canada geese dirty the water, and high summer temperatures exacerbate these problems," staff said in the report.
The ponds use 100,915 cubic metres of treated municipal water per year — enough to fill Central Park Pool 69 times a year or once every five days, according to the report.
The "significant" water loss is because of seepage through the pond floor into the ground, which accounts for 88,000 cubic metres of water per year, 88 per cent of the pond's water use.
'Complete rebuild'
"Dealing with the water loss really means excavating and rebuilding the ponds from the ground up, so it's not just one leaky pipe we have, we have the entire base and bottom of the ponds leaking," the city's senior manager of park planning Heather Edwards told council.
"So, it really calls for a complete rebuild."
Staff say a new water recirculation system and lined pond bases could reduce water loss by 88 per cent.
"Within the water itself, we'd be putting in bubblers and aerators and those kinds of things to keep it oxygenated … That's why the price tag gets very large when we're looking at what would it take to reinvigorate it and make it a healthy ecosystem, all of those things would be part of the very large price tag," Edwards said.
The city said the pond reconstruction would cost an estimated $4 million to $6 million. Adding new structures such as new fixed decks, a floating dock, boardwalks, fencing, planting and shade structures would be about $10 million.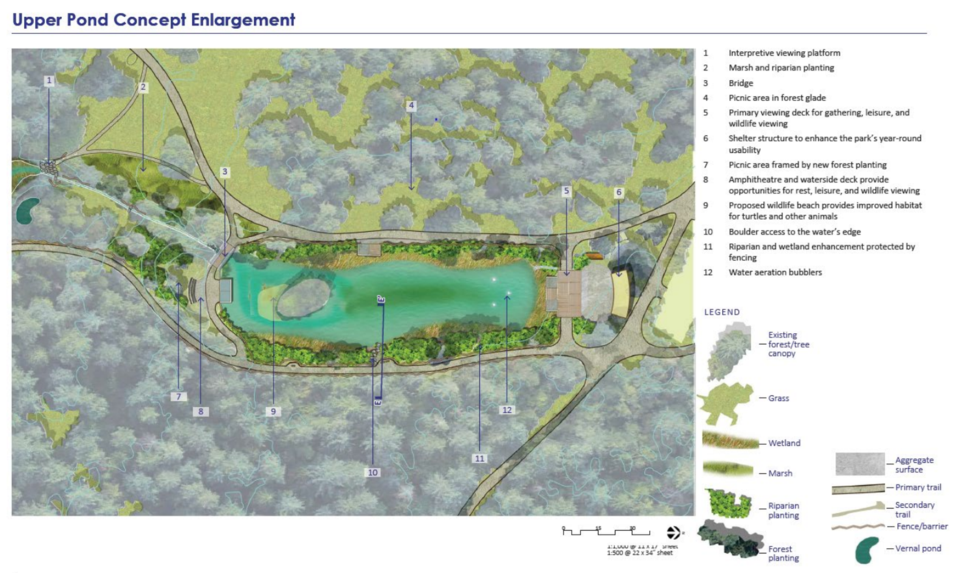 Master plan
Mayor Mike Hurley asked if the pond leakage needed to be addressed as soon as possible.
Parks general manager Mary Morrison-Clark said there was enough time to complete a master plan (which is expected to take about 12 to 18 months) before renewing the ponds could be considered.
The last planning review of Central Park was done in 2009.
Since then, population growth in the area has "changed the use and interest in various park attractions," according to the report, so staff will review public support for the pond features and all rec facilities including picnic areas, the outdoor pool cover, Swangard Stadium upgrades and a "destination playground" through the full park master plan.
📣 SOUND OFF: What do you think Central Park should look like in the future? What are your favourite parts of the park? Send us a letter.