Burnaby's Swangard Stadium needs upgrades, but most city councillors oppose a full redevelopment that would encroach on parkland.
Quentin Talbot-Kelly of Cornerstone Planning Group, which prepared a report on the future of Swangard, said the stadium's last building condition assessment in 2014 showed $1.8 million of remedial actions needed to bring the building systems "up to an acceptable level."
He said, given that the work wasn't done, he believes the stadium is "likely at a worse condition" than in 2014.
He said he couldn't give an exact estimate for how many years the upgrades (as opposed to a full redevelopment) would extend the facility's life but said it could be 20 years depending on the building system.
The city could either keep Swangard as a community asset for sports and cultural events or significantly redevelop it with a focus on professional sport and economic development, according to the report.
The community-asset option would cost between $25 million and $29 million, while the full redevelopment would be between $153 million and $170 million — but the full redevelopment would also likely come with a loss of greenspace.
'Protect all the parkland'
Council was quick to brush aside the idea of eliminating public parkland.
"From my perspective, it really needs to stay with as little impact on the park as possible," said Mayor Mike Hurley at a council meeting Aug. 28.
"We've got to protect all the parkland," he said, adding he thinks it's "really important" to keep Swangard as a community-based asset.
Coun. Alison Gu said she "would really not support" the redevelopment option which would see the stadium expand over a treed area of Central Park.
"There's just too much encroachment on the forest there," she said.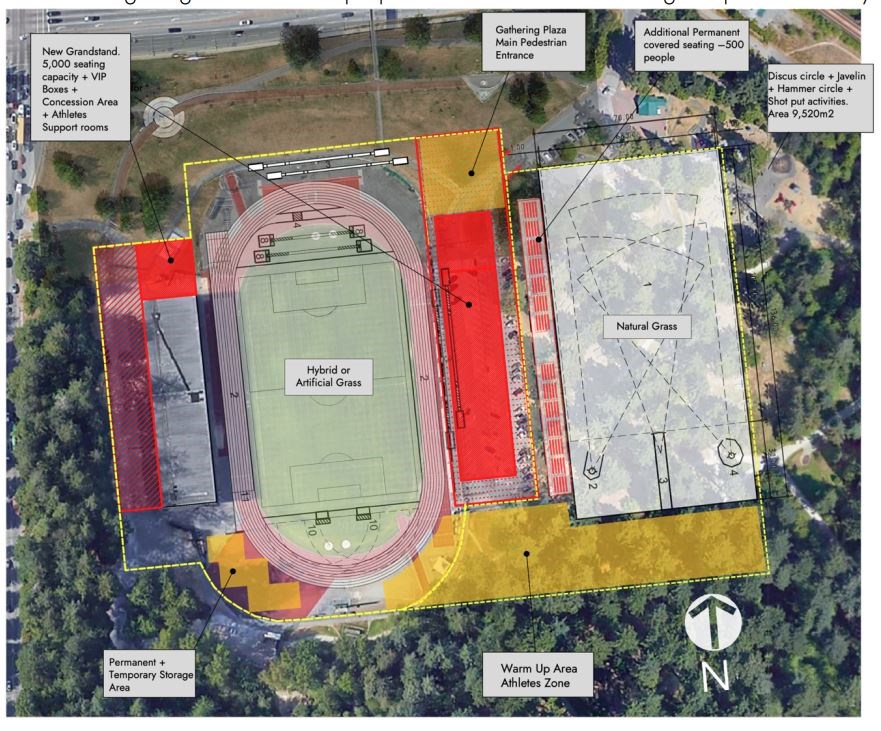 Coun. Sav Dhaliwal said the parks commission agreed with keeping Swangard as a community multi-purpose venue for sports and cultural events, but he suggested council remain open to a larger redevelopment.
"This is a city that's growing; we're adding population," Dhaliwal said.
"If we are going to build, now's the time to do so, because $170 million, even though it's a lot of money, certainly will look after the next 50 years," he said.
The $170 million "might seem like a bargain 25 years from now," Dhaliwal added.
He suggested looking at a redevelopment option with a smaller impact to the surrounding park area.
Coun. Joe Keithley supported upgrading the stadium, but not full redevelopment, which he said was "way too much money" and cut down community involvement.
Swangard Stadium, which opened in 1969, is the only facility in Metro Vancouver that has more than 5,000 permanent seats alongside infrastructure for competition-level track and field and a natural grass infield.
Swangard has been primarily used for track-and-field activities over the last 10 years.
---
📢 SOUND OFF: What do you think of the plans to upgrade Swangard Stadium? How do you imagine the future of the stadium and the sports and community events it hosts? Share your thoughts — send us a letter.